Download Jet Car Stunts 2 APK dal Play Store Android | Scaricare Jet Car Stunts 2 APK dal Play Store Android | Jet Car Stunts 2 v1.0.13 APK [Full/Unlocked]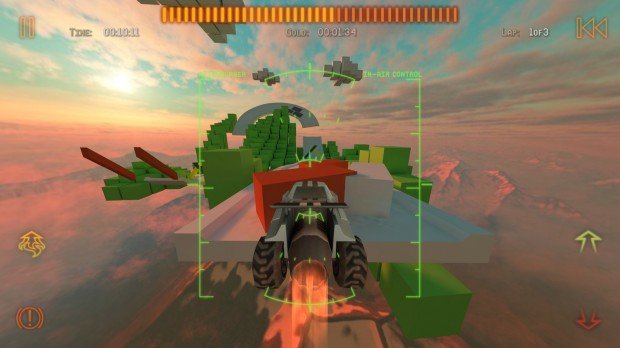 Il bellissimo gioco Jet Car Stunts 2 è finalmente disponibile su Android. Dopo parecchi anni dal rilascio della prima versione, ecco che Jet Car Stunts 2 sbarca sui nostri dispositivi Android. 
Forti del successo della prima versione, gli sviluppatori di Jet Car Stunts hanno appena lanciato su Android il successore di questo divertentissimo e bellissimo gioco di corse "spaziali" per Android. Proprio come la prima release, Jet Car Stunts 2 non è un semplice gioco di corse automobilistiche, ma un titolo che vi permette di effettuare folli acrobazie su piste che aleggiano in cielo.
In questa nuova release gli sviluppatori hanno cercato di offrire un'esperienza di gioco ancora più realistica sfruttando tutti i sensori dei nostri dispositivi: ad esempio, usando l'accelerometro potremo gestire la guida della vettura ed anche il suo volo.
La longevità di questo gioco è incredibile: Jet Car Stunts 2 offre la possibilità di divertirsi in ben 120 livelli ed ognuno di essi potrà essere affrontato con 3 difficoltà crescenti. Inoltre saranno disponibili 4 modalità di gioco ed i giocatori potranno provare ben 7 automobili diverse. Per non farsi mancare proprio nulla, gli sviluppatori offrono anche la possibilità di creare nuovi livelli che potranno essere successivamente condivisi con gli utenti del gioco. Fantastico!
WARNING: This game will challenge you.

– Crazy stunt driving on outlandish courses.
– Insane jumps.
– Ludicrous speeds.
– Manic car handling.
– Outrageous jet physics.

Specs:

– 120 levels, 3 difficulties each. (The First 10 are free)
– 7 cars with varied handling.
– 4 Game modes.
– Level creation and sharing (Purchase required for saving and sharing)
– Global leaderboards with replays.
– Friend challenges.
– Controller support
Jet Car Stunts 2 è disponibile gratuitamente sul Play Store Android, ma per acquistare la versione completa dovremo pagare 3,65 €.
Ecco il link al Play Store:
https://play.google.com/store/apps/details?id=com.trueaxis.jetcarstunts2
In alternativa Mobilism e Aptoide.
Non perdere nessuna notizia, offerta o recensione pubblicata sul nostro sito! 
Seguici sui social per rimanere sempre aggiornato in tempo reale: