Ecco Hit Mania 2015: tracklist e lista canzoni e la lista dei brani completa della nuova compilation dell'inverno 2014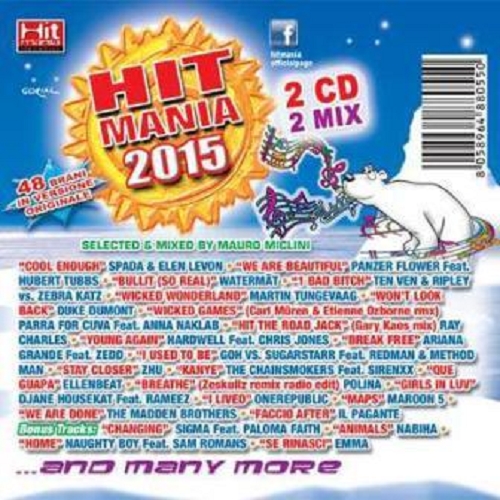 Arriva finalmente nei negozi italiani la nuovissima compilation Hit Mania 2015. Attesa da parecchi mesi, ecco la compilation da ascoltare in questo inverno, che è appena diventato parecchio freddo.
Ecco di seguito la lista dei brani completa di Hit Mania 2015 e la tracklist ufficiale di Hit Mania 2015, che arriva nei negozi italiani (sia fisici che virtuali) proprio in questi giorni.
Hit Mania 2015 (2CD)
Dance | Mp3 VBR Kbps | 293 Mb
Tracklist Hit Mania 2015: 
CD 1:
1.Cool Enough – Spada & Elen Levon
2.We are Beautiful – Panzer Flower feat. Hubert Tubbs
3.Bullit (So Real) – Watermät
4.1 Bad Bitch – Ten Ven & Ripley Vs Zebra Katz
5.Wicked Wonderland – Martin Tungevaag
6.Won't Look Back – Duke Dumont
7.Wicked Games (Müren&Ozborne Rmx) – Parra for Cuva Ft. Anna Naklab
8.Hit The Road Jack (Gary Kaos Mix) – Ray Charles
9.Young Again – Hardwell feat. Chris Jones
10.Break Free – Ariana Grande feat. Zedd
11.I Used to Be – Goh Vs. Sugarstarr Ft. Redman & Method Man
12.Stay Closer – Zhu
13.Kanye – The Chainsmokers feat. Sirenxx
14.Que Guapa – Ellenbeat
15.Breathe (Zeskullz Remix Radio Edit) – Polina
16.Girls in Luv – Djane Housekat feat. Rameez
17.I Lived – Onerepublic
18.Maps – Maroon 5
19.We are Done – The Madden Brothers
20.Faccio After – il Pagante
21.Changing – Sigma feat. Paloma Faith
22.Animals – Nabiha
23.Home – Naughty Boy feat. Sam Romans
24.Se Rinasci – Emma
CD 2:
1.Away – Dj Skipper
2.Happy End – Firstlight & Simson
3.Talking About – Romay
4.Get Ready Get Steady – Zeroone
5.Atmosphere – Alex Noiss
6.Saturday Night – Simone di Bella feat. Mr. Shammi
7.Sexy Lady – Josef Meloni Vs. Tommyland
8.Take Me Away – Roby Laville feat. Niky
9.Go Go Go – Sicilian House
10.I'm Ok – The Houser
11.Crazy Horn – Carino Alessandro Vs. Dj Kooker & Cicco Dj
12.Show Me Who You are – Rancati feat. Telli
13.Touch You (Chris Oldman Club V) – Claudiano feat. Very Thomson
14.Call of Ancient Love – Evo-K & Stan Gemes
15.On The Dancefloor – Jacopo
16.Your Love – Firstlight & Simson feat. Zeroone
17.Dunky Funky – Jumper Nox
18.Infinity Love – Andrea Coluzzi
19.Quema Tu Fuego Conmigo (Romay Rmx) – Live
20.Go Carry on – Dj Dabion
21.Let Me Feel Alive – Miami Vegas & Roby Laville
22.The Guardian of Star – Ps Project
23.Chasing Stars – Jumper Nox
24.Confusion Style-Fabio Match Vs. Ps Project & Roberto Del Cont
Download Hit Mania 2015
Potete scaricare l'album completo di Hit Mania Estate 2014 direttamente da Apple iTunes Store. Ovviamente dovrete comprarlo e pagarlo regolarmente in base al prezzo proposto da Apple.
In alternativa potete cercare singolarmente questi brani su Spotify e aggiungerli ad una playlist personalizzata: in questo modo potrete ascoltare tutti i brani di Hit Mania 2015 in modo completamente gratuito, senza che sia necessario acquistare l'album. Se avete un abbonamento Premium a Spotify potete anche scaricare i brani per ascoltarli offline sul vostro smartphone o tablet senza connessione a internet.
Come ultima alternativa potete fare una ricerca su Google digitando "Hit Mania 2015 (2CD) (2014) .mp3 – Vbr Kbps"; valutate poi voi le varie soluzioni che vi saranno proposte.
Non perdere nessuna notizia, offerta o recensione pubblicata sul nostro sito! 
Seguici sui social per rimanere sempre aggiornato in tempo reale: