SEGUI il canale Telegram Offerte di YourLifeUpdated: sconti esclusivi su Amazon e Gearbest ogni giorno selezionati per te!
Download e scaricare nuova Mappa Garmin City Navigator Europe NT Unicode 2015.40 (Mapsource). Nuove mappe Garmin aggiornate a Febbraio 2015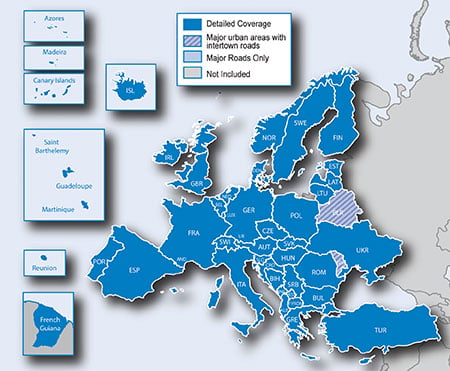 Breve news per segnalare a tutti i possessori di un navigatore GPS Garmin che sono disponibili le nuove mappe aggiornate di tutta Europa, Italia compresa, aggiornate a Febbraio 2015. 
Finalmente dunque è disponibile al download dal sito Garmin anche la mappa Garmin City Navigator Europe NT Unicode 2015.40 per tutti i navigatori GPS di Garmin, che introduce importanti aggiornamenti e porta con sé le mappe Garmin aggiornate al 2015.
Si tratta dell'ultima versione della mappa Europa per il navigatore GPS Garmin, con le strade aggiornate a Febbraio 2015 e perfette per tutti gli utenti che quotidianamente si mettono su strada e macinano chilometri e chilometri.
Se dunque dovete mettervi in viaggio o state programmando le ferie, vi consiglio dunque di aggiornare il vostro navigatore GPS Garmin per viaggiare sicuri e informati: è arrivato il momento di scaricare le nuovissime mappe Garmin City Navigator Europe NT Unicode 2015.40 per il vostro navigatore GPS.
Le strade cambiano forma e le attività commerciali aprono e chiudono. Ottieni i dati mappa più aggiornati sul dispositivo grazie a questo acquisto singolo.
Mappe stradali dettagliate aggiornate.
Punti di interesse aggiornati, ad esempio stazioni di rifornimento, parcheggi coperti, ristoranti, hotel e sportelli bancomat.
Calcolo dei percorsi più rapido e preciso con le informazioni mappa più aggiornate.
Ecco di seguito i dettagli per quanto riguarda questo importante aggiornamento delle mappe Garmin City Navigator Europe NT Unicode 2015.40. 
Download Mappa Garmin City Navigator Europe NT Unicode 2015.40 (dal sito Garmin Ufficiale)
Data di uscita: 2015
Versione: 2.015,40
FID: 3679
Sviluppatore: Garmin
Le mappe sono disponibili gratuitamente o a pagamento per gli utenti che utilizzano un navigatore GPS Garmin, in base al tipo di navigatore acquistato. Chi le vorrà acquistare per aggiornare il proprio dispositivo dovrà pagare 60€, una cifra non troppo elevata se consideriamo che le mappe sono super aggiornate e includono tantissimi cambiamenti a livello di strade e percorsi.
Come detto, le mappe sono aggiornate alla versione Garmin City Navigator Europe NT Unicode 2015.40 e includono tutte le nazioni Europee. 
Link: http://www.garmin.com/it-IT/maps/updates/
Percorri le strade dell'Europa in tutta sicurezza. Il prodotto fornisce mappe stradali dettagliate e punti di interesse per il dispositivo Garmin compatibile per navigare mediante indicazioni esatte delle svolte con pronuncia dei nomi delle strade e raggiungere qualsiasi indirizzo o incrocio. Consente di creare percorsi per raggiungere ristoranti, stazioni di rifornimento, alloggi, attrazioni e altro ancora.
Funzionalità principali:
Include oltre 10,8 milioni di km (6,7 milioni di miglia) di strade, incluse autostrade, superstrade nazionali e regionali, nonché strade locali in Europa.
Consente di visualizzare oltre 6,7 milioni di punti di interesse in tutto il Paese, tra cui ristoranti, alloggi, frontiere, attrazioni, stazioni di rifornimento, campeggi, negozi e altro ancora.
Fornisce indicazioni delle svolte con pronuncia dei nomi delle strade sul dispositivo compatibile.
Pronuncia i nomi delle strade (esempio: "Svoltare a destra su Viale Marconi")
Include funzioni di navigazione, quali limitazioni di svolta, indicazioni delle rotonde, categorie di velocità e altro ancora.
Contiene i dati sul traffico per i dispositivi compatibili che utilizzano i ricevitori Info Traffico.
(Solo DVD) Include il software per computer MapSource® che consente di pianificare viaggi sul proprio computer e trasferire waypoint, percorsi e tracce dal computer al dispositivo in uso e viceversa.
Nazioni incluse:
Great Britain and Ireland
Great Britain: Full Coverage
Scotland: Full coverage
Wales: Full coverage
Isle of Man: Full Coverage
Northern Ireland: Full coverage
Ireland: full coverage
Channel Islands: Full coverage
Denmark, Finland, Iceland, Norway and Sweden
Denmark: Full coverage
Finland: full coverage
Iceland: full coverage
Norway: full coverage
Sweden: Full Coverage
France and Benelux
Andorra: Full coverage
Belgium: Full Coverage
France: Full coverage
French Guiana: Coverage for most urban areas
Guadeloupe: full coverage
Martinique: full coverage
Netherlands: Full Coverage
Luxembourg: Full Coverage
Reunion: Coverage for most urban areas
Saint Barthelemy: Full Coverage
Italy, Austria, Switzerland and Liechtenstein
Italy: Full Coverage
Austria: Full Coverage
Switzerland: Full Coverage
Liechtenstein: full coverage
Malta
Malta: complete information
Spain and Portugal
Spain: Full Coverage
Portugal: full coverage
Gibraltar: full coverage
Azores: full coverage
Canary Islands: Full coverage
Baleric Islands: Full coverage
Madeira: Full coverage
Germany
Germany: full coverage
Czech Republic
Czech Republic: full coverage
Greece
Greece: Full Coverage
East Europe
Estonia: Full coverage
Latvia: full coverage
Lithuania: full coverage
Poland: full coverage
Slovakia: full coverage
Hungary: full coverage
Slovenia: full coverage
Croatia: full coverage
Bulgaria: Full coverage
Romania: full coverage
Turkey: Full coverage
Moldova: Major roads only
Bosnia and Herzegovina: Coverage for most urban areas
Serbia and Kosovo: Full Coverage
Montenegro: Coverage for most urban areas
Albania: Major Roads Only
Republic of Macedonia (FYROM): full coverage
Belarus: Major roads only
Ukraine: Coverage for most urban areas
Per consultare i dispositivi compatibili, potete recarvi sul sito Garmin: http://www.garmin.com/it-IT
In alternativa potete fare una ricerca su Google digitando "Garmin City Navigator Europe NT Unicode 2015.40".
Non perdere nessuna notizia, offerta o recensione pubblicata sul nostro sito! 
Seguici sui social per rimanere sempre aggiornato in tempo reale: