65 euro di App indispensabili per Android in regalo sull'App-Shop Amazon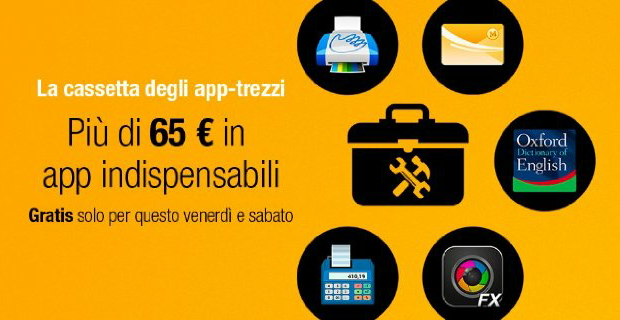 L'Amazon App-Shop è sicuramente lo store alternativo al Google Play Store più famoso e fornito di app. Ogni giorno viene regalata un'app che spesso e volentieri è sempre un'ottima app e a volte vengono regalati interi pacchetti di app oppure vengono scontate tantissimo rispetto al loro prezzo originario.
Come ogni venerdì, Amazon, fa un bel regalo per prepararvi al meglio al weekend con ben 65 euro di applicazioni in regalo e tra queste troviamo alcune davvero utili ed indispensabili. Le applicazioni in regalo sono tutte inserite nella categoria delle app indispensabili come il dizionario di inglese, uno scanner che crea PDF e molto altro.
Tante sono le app in offerta e vi consiglio di fare un salto sull'App-Shop di Amazon e di installarlo sul vostro dispositivo Android cliccando sul seguente link direttamente sul dispositivo Android.
Ecco alcune delle app in offerta:
Fleksy
Camera ZOOM FX
Shuttle+ Music Player
XnRetro Pro
Servers Ultimate Pro
AndroZip Pro File Manager
Tiny Scan Pro: PDF Document Scanner
Business Card Reader PRO
Oxford Dictionary of English with Audio
L'App-Shop di Amazon metterà in offerta le app solo oggi 14 Novembre 2014.