321Soft Data Recovery Express 3.6 Gratis: Ottimo programma per Windows per recuperare dati o foto perse e cancellate da Hard Disk e memorie per fotocamere e smartphone [Windows App]
321Soft Data Recovery Express è un programma per Windows per recuperare i dati su file system sia FAT che NTFS, ed è stato progettato per recuperare i dati cancellati dal disco rigido così come da HD esterni, scheda SD, CompactFlash, unità USB esterne e altri supporti di memorizzazione per smartphone e fotocamere.
Supporta il recupero di file cancellati anche dall'interno di un'applicazione o rimossi dal cestino. Sarà anche possibile recuperare i dati che sono stati cancellati da unità formattate accidentalmente o per crash improvvisi del sistema operativo oppure anche per un attacco di un virus.
A differenza di molti strumenti di recupero dati per Windows, Data Recovery Express è sicuro, non distruttivo perché è impostato in sola lettura, il che significa che il programma non tenterà mai di scrivere altri dati in modo non cancellare altre tracce di dati residui.
Caratteristiche
Quickly recover files and folders – even those emptied from the Recycle Bin.

Easily recover data from deleted, or formatted media.

Recover files and folders from Hard Drives, USB flash drives, SD card, memory stick, and other storage devices.

Easily recover documents, photos, video, music, PDF, office, applications, and other files.

Supports both quick scan and deep scan.

Support recovery of compressed and encrypted files.

Quick scanning speed.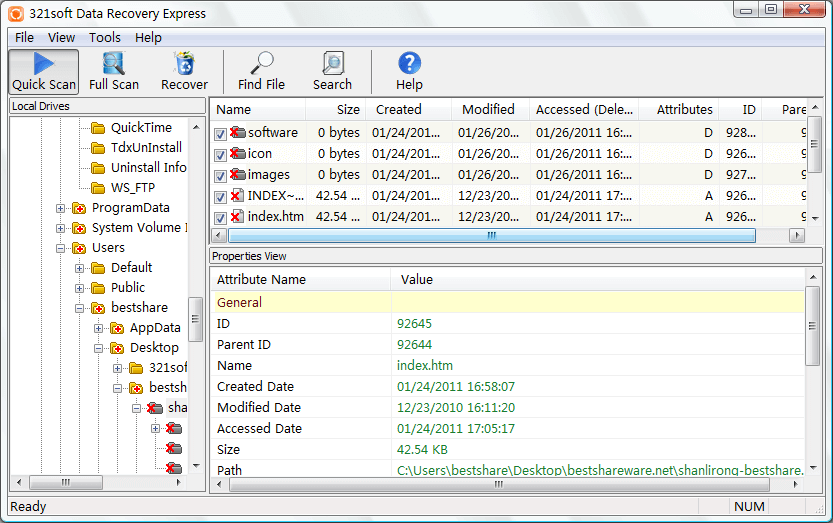 Recover files and folders after a hard drive partitioning error.

Supports IDE / SATA / SCSI / ATA hard disk drives.

Advanced search and filtering options to help you find your files fast.

Built-in hex editor

File display tree allows filtering and sorting by name, date, time, status, and size capabilities.

File recovery after accidental format – even if you have reinstalled Windows.

Support for hard drives formatted with Windows FAT32 and NTFS file systems.

100% safe. Read-only and non-destructive undelete utility to salvage lost, deleted files and folders.

Support all Windows versions including Windows 8, XP, Vista, Windows 7 and more.

Recover less than 64KB files for Free with the Free version.

Easy to use, Standard Windows Explorer interface.
Solo per oggi, 27 Novembre 2013, 321Soft Data Recovery Express 3.6 è offerto gratuitamente.
Per usufruire dell'offerta dovete scaricare ed installare il software dal link al fondo dell'articolo, scompattate il file .ZIP scaricato, quindi avviare il file .EXE appena scaricato e installate 321Soft Data Recovery Express, una volta completata l'installazione cliccate sul file ReadMe.txt per sapere come ricevere la licenza gratuita per attivare la versione completa di 321Soft Data Recovery Express.
Clicca sul pulsante per scaricare Vole Windows Expedition Pro 3.10.31 con licenza inclusa:
Download 321Soft Data Recovery Express 3.6 Gratis con Licenza