Automatizza le operazioni al PC con Advanced Task Scheduler 3.3
Se passate molto  tempo al PC e soprattutto svolgete alcune operazioni ogni giorno con la stessa cadenza, potrebbe ritornarvi utile un semplice programmino che si occuperà di svolgere per voi le normali operazioni di routine così da poter impiegare al meglio il tempo in ufficio o a casa.
Advanced Task Scheduler è un pianificatore di operazioni multifunzionale che vi permetterà di automatizzare tutti i vostri impegni quotidiani. Avviare programmi, spegnere il computer, stabilire connessioni di rete: tutto quello che vorrete automatizzare.
Il programma vi permetterà di automatizzare una vasta gamma di operazioni comuni, inviare e-mail e messaggi in rete, trasferire dati tramite HTTP ed FTP e molto altro ancora.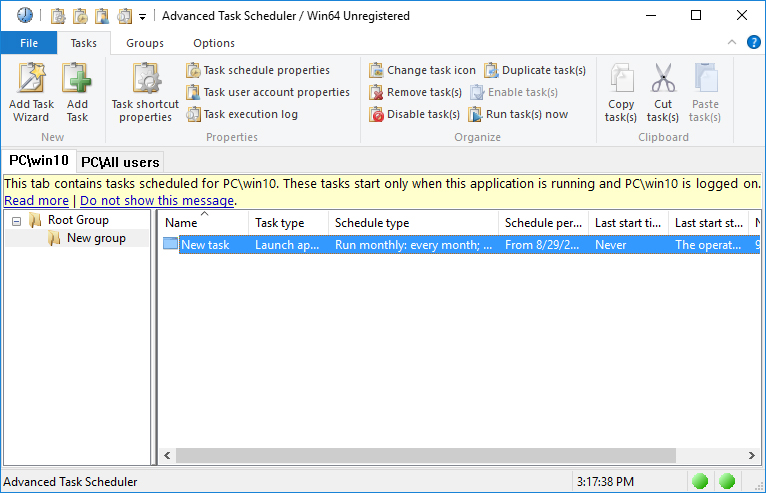 Key features
Schedule tasks for current user (does not need UAC elevation);
Schedule tasks for all users in the system (installs as Windows Service);
Unlimited number of tasks can be organized in nested groups;
One shortcut for each task;
Wide range of task types that can be scheduled;
One schedule for each task;
Wide range of schedule types;
Logs all made automatic starts;
Compatible with all modern 32 and 64 bit Windows operating systems.
Solo per oggi, Advanced Task Scheduler 3.3 è offerto gratuitamente.

Per usufruire dell'offerta dovete scaricare ed installare il Software dal Link al fondo dell'articolo, scompattate il file .ZIP scaricato, quindi avviare il file .EXE appena scaricato e installate Advanced Task Scheduler, una volta completata l'installazione cliccate sul file di testo ReadMe.txt per sapere come ricevere la licenza gratuita per attivare la versione completa di Advanced Task Scheduler.
Scaricate Advanced Task Scheduler 3.3 Gratis cliccando sul seguente pulsante: