Batch Picture Protector Pro 4.1 Gratis: Proteggi le tue foto applicando Watermark [Windows App]
Avete scattato delle foto bellissime e volte pubblicarle su Internet ma avete paura che ve le rubino oppure volete applicare delle scritte come filigrana sulle vostre foto, bene oggi vi presento un programma che vi permette di applicare vari tipi di Watermark alle vostre foto ed immagini in pochi e semplici passaggi in molte varianti differenti.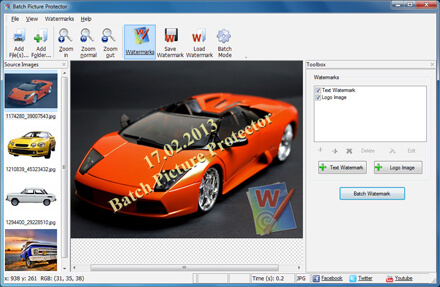 Batch Picture Protector è uno strumento di watermarking per le immagini che lavora in modalità batch molto potente e facile da usare. Utilizzandolo, potrete proteggere le vostre immagini digitali aggiungendo ad esse dei watermark professionali semi-trasparenti che combinano testo, illustrazioni e grafica. I watermark possono contenere il vostro copyright, l'URL di un sito Web o loghi. Batch Picture Protector è il modo migliore per aggiungere watermark alle vostre foto e proteggerle in maniera veloce e semplice.
Questo software di watermarking è particolarmente utile per i progettisti, gli artisti e i produttori che inviano bozze ai clienti per la valutazione. Inoltre, consente a chi pubblica spesso immagini su Internet o crea gallerie Web di proteggere le proprie foto con watermark di ogni genere.
Caratteristiche:
Transparent watermarks with fully customizable text and graphics
Watermarking photos using recursive file processing
Easy-to-use and user-friendly
Automatic watermark positioning
Watermark images with an adjustable transparency setting
Watermark text inclusive of macros (current date, time, file name, etc)
Versatility allowing load/save of several watermarks
Command line support.
Works with all major image formats
Windows Vista/7 compliant
Solo per oggi, Batch Picture Protector Pro 4.1 è offerto gratuitamente.
Per usufruire dell'offerta dovete scaricare ed installare il software dal link al fondo dell'articolo, scompattate il file .ZIP scaricato, quindi avviare il file .EXE appena scaricato e installate Batch Picture Protector Pro 4.1, una volta completata l'installazione cliccate sul file ReadMe.txt per sapere come ricevere la licenza gratuita per attivare la versione completa di Batch Picture Protector Pro 4.1.
Clicca sul pulsante per scaricare Batch Picture Protector Pro 4.1 con licenza inclusa:
Download Batch Picture Protector Pro 4.1 Gratis con Licenza