Batch Picture Resizer 5.2 Gratis: Ridimensiona e convertire le foto velocemente [Windows App]
SoftOrbits Batch Picture Resizer è un programma che ti permette di ridimensionare più foto o immagini contemporaneamente senza perdita di qualità. Inoltre, SoftOrbits Batch Picture Resizer ti permette di convertire le foto in diversi formati.
Supporta i formati JPEG, BMP, RAW, TIFF, GIF, PNG, PCX, TGA, ecc.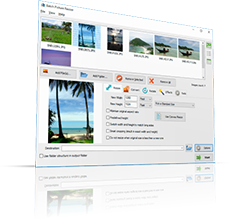 Key features
Process multiple images in just a few clicks
Resize pictures in batch mode
Add text, logotypes and image watermarks
Convert images between multiple formats
GUI and command line are available
Automatically rotate JPEG images based on EXIF information
Lossless image rotation, flipping and mirroring for JPEG files
Preserves EXIF tags
Changes canvas size
Supports RAW images (CRW, CR2, NEF, PEF, RAF, RAW, DNG, MNG, etc.)
Batch image renaming
Prompt-free overwrite or saving into new files
Automatic level adjustment and color optimization
Greyscale conversion
Supports Windows 7 and 8, Explorer menu itegration
Compression rate and DPI change for output files
Solo per oggi, 6 Gennaio 2014, Batch Picture Resizer 5.2 è offerto gratuitamente.
Per usufruire dell'offerta dovete scaricare ed installare il Software dal Link al fondo dell'articolo, scompattate il file .ZIP scaricato, quindi avviare il file .EXE appena scaricato e installate Batch Picture Resizer, una volta completata l'installazione cliccate sul file ReadMe.txt per sapere come ricevere la licenza gratuita per attivare la versione completa di Batch Picture Resizer.
Clicca sul pulsante per scaricare Batch Picture Resizer 5.2 con licenza inclusa: