CollageIt Pro 1.9 Completo: Crea Fantastici Collage di Foto per Stampe ad Effetto
Mostrare tutte le foto che scattate a volte può diventare noioso, soprattutto se siete soliti scattarne molte. Ecco che creare un bel Collage delle foto più belle può diventare un modo creativo per mostrare più foto in un'unica immagine in modo da rendere meno stressante vedere le centinaia di immagini scattate durante le vacanze o eventi particolari. CollageIt è sicuramente uno dei migliori programmi per creare collage di foto e solo per oggi, 8 Maggio 2013, viene offerto gratuitamente con tanto di licenza.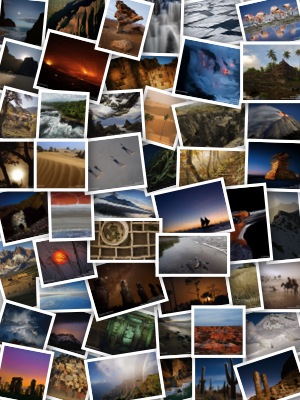 CollageIt, è un programma Photo Collage Maker professionale per Windows, Mac OS X e iOS. Il programma permette di creare collage in maniera completamente automatica, può inoltre trasformare qualsiasi foto, in un collage di sicuro effetto in pochi secondi, aggiunge funzioni speciali come : taglio foto e limiti di dimensioni, rimuove watermark dai collage e permette di dire addio alle fastidiose Splash Screen. CollageIt è mulilanguage, manca però la localizzazione in Italiano.
Descrizione delle funzioni principali:
Automatic, Easy to Use and Powerful
There is no need to make any manual adjustments since this collage editor can create photo collage automatically with just a few mouse clicks. It is easy enough for the users of all experienced level.
WYSIWYG—Real-time preview with high speed.
Great capacity can accommodate a handful of photos up to 200.
Diverse types of photo collage can be created and A1 size or even larger size is available.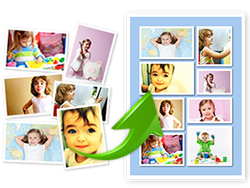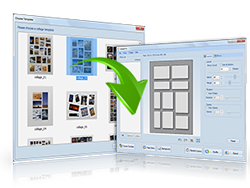 Various Collage Templates to Choose
Choose the collage layout with various collage templates or create picture collage on Mac OS X & Windows with blank one.
Many kinds of pre-designed templates included, users can select a style at their will.
Various collage layouts can be found in the templates.
Customize Photo Collages Freely
Set page size and collage background to meet your needs.
Easily design your picture collages with variable parameters provided, such as photo count, photo space, page margin, rotation and sparse.
Photo frames and shadow added for decoration.
Cropping photo is available so that the photos in the collage can fit well into the chosen collage space.
"Random Layout?can continuously generate all kinds of collage layouts in seconds by just a click.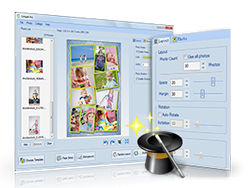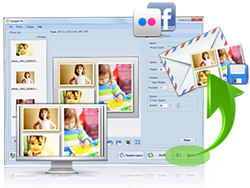 Save the collages as JPEG, PNG, PDF, PSD or other images formats and print it out.
Send it to family members and friends via Email.
Easily set your photo collage as your desktop wallpaper.
Share your beautiful collages on Flickr and Facebook.
Solo per oggi, 8 Maggio 2013, potrete scaricare ed attivare la versione Pro di CollageIt 1.9 in modo gratuito senza dove pagare nulla.
Per usufruire dell'offerta dovete scaricare il file ZIP a fine articolo, estrarlo, fare un doppio clic sul file Setup.exe ed eseguire l'installazione, a fine installazione chiudete tutto e avviate il file Activate.exe per ottenere la licenza gratuita.