Download Text to Speech Converter 1.26: Convertire Documenti, Test e Pagine Web in Audiolibri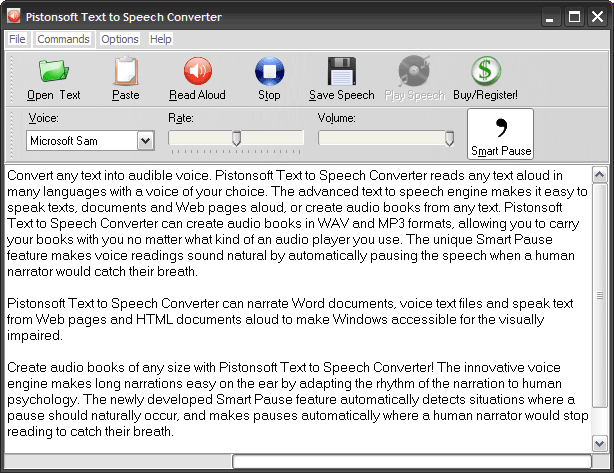 Converte documenti, testi e pagine Web in audiolibri è semplice se utilizziamo Pistonsoft Text to Speech Converter che permette di creare un file audio comprensivi della funzione Pausa smart permettendo di regolare volume, voce e velocità degli audiolibri. Supporta tutte le voci SAPI 5 incluse nel sistema più altre voci.
Caratteristiche principali:
Crea libri audio personalizzati;
Permette di ascoltare documenti molto lunghi;
Permette di portare ovunque le proprie letture preferite;
Consente di studiare mentre ci si trova in viaggio;
Crea audiolibri di facile ascolto.
Dunque se volete convertire un vostro file in un audio libro da inviare ai vostri amici oppure creare un audiolibro tutto vostro questo è il software giusto per farlo in modo professionale.
Solo per oggi, Text to Speech Converter 1.26 è offerto gratuitamente.

Per usufruire dell'offerta dovete scaricare ed installare il Software dal Link al fondo dell'articolo, scompattate il file .ZIP scaricato, quindi avviare il file .EXE appena scaricato e installate Text to Speech Converter 1.26 una volta completata l'installazione cliccate sul file di testo ReadMe.txt per sapere come ricevere la licenza gratuita per attivare la versione completa di Text to Speech Converter 1.26.
Potete scaricare Text to Speech Converter 1.26 Gratis cliccando sul seguente pulsante: