Download Ashampoo WinOptimizer 2016 Gratis solo per oggi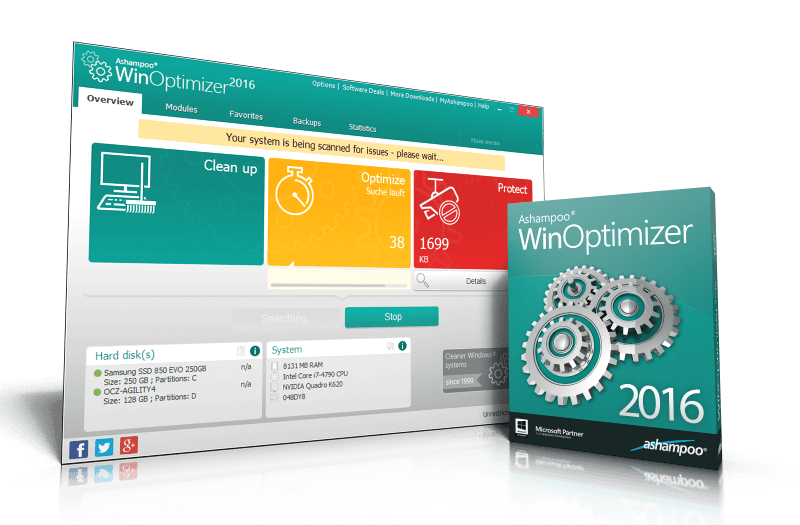 Ashampoo WinOptimizer 2016 è un tool di ottimizzazione di sistema potente, che libera spazio, ripara errori e mantiene le prestazioni del tuo PC. Protegge anche la tua privacy e ti permette di personalizzare il tuo ambiente Windows. Oltre a pulire gli hard disk, il programma offre diversi tool, che coprono varie funzioni dalla manutenzione di sistema, tweaking e analisi di sistema all'elaborazione file (codifica, divisione, ecc.). La Versione 2016 comprende un font manager, compatibilità completa Windows 10 e supporto multi-utente.
Features e chagelog versione 2016
NEW Fully Windows 10 compatible
NEW Font Manager to review and delete system fonts
NEW Optimum SSD support for increased lifespans
NEW Safely and securely encrypt and split up file with File Manipulator
NEW Powerful drive cleaner with significantly improved results
NEW New look for maximum clarity
System analysis with support for the latest hardware
Newly developed Internet cleaner with multi-user support
Updated search algorithms for all cleaner modules
New filter settings to narrow down search results
Solo per oggi, Ashampoo WinOptimizer 2016 è offerto gratuitamente.

Per usufruire dell'offerta dovete scaricare ed installare il programma cliccando sul link al fondo dell'articolo, dovete scompattate il file .ZIP, quindi avviare il file .EXE appena scaricato e installate il programma seguendo la procedura guidata di Ashampoo WinOptimizer 2016 una volta completata l'installazione cliccate sul file di testo ReadMe.txt per sapere come ricevere la licenza gratuita in modo da attivare la versione completa di Ashampoo WinOptimizer 2016.
Potete scaricare Ashampoo WinOptimizer 2016 gratis cliccando sul seguente pulsante: