Fare backup di dati importanti su Windows
QILING Disk Master Professional non è solo una soluzione affidabile per un backup e recupero rapido, ma è anche un programma per gestire il ramdisk e le partizioni. Mira a proteggere i tuoi dati e migliorare le prestazioni del tuo computer. Può essere utilizzato per un computer privato o domestico oppure per qualsiasi uso di organizzazione per uso commerciale e licenziato per essere utilizzato solo per un computer.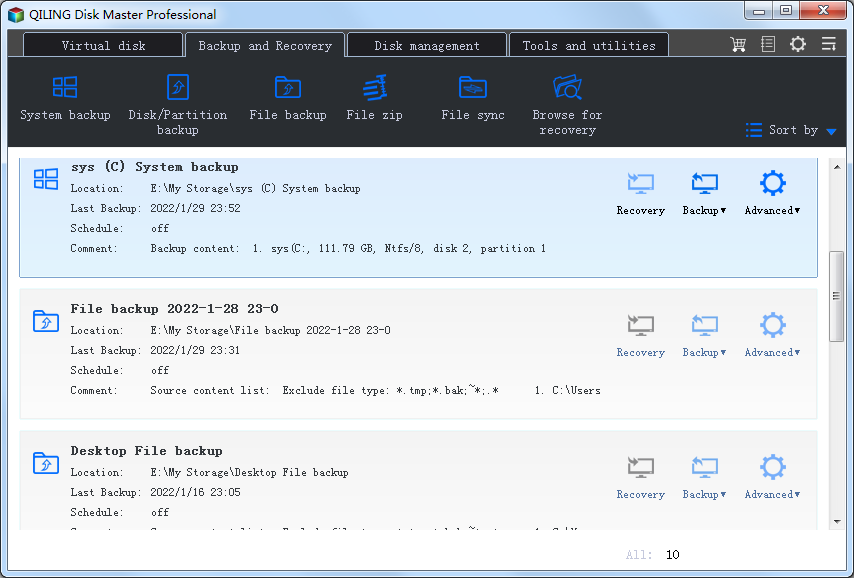 Features
Disk imaging – Block-level disk imaging quickly and efficiently backs up the entire disk or volumes. It can speed up the backup process of large files as it only backs up the modified blocks of data instead of the entire file.
Hot backup – Integrate with Microsoft Volume Shadow (VSS) to back up files that are in use, back up specific files and volumes without interrupting any current operations, especially for open files backup.
Sector-by-sector backup – store an exact copy of your disk or volume, including unused space, sector-by-sector backup assures you a 100% identical copy to the original.
Password protection – using AES encryption technology.
Compression – compressed backup data takes up less storage space.
Deduplication – make a backup image smaller.
Email notification – Except for checking Logs, email is a good way to let users know the result of backup plan.
Splitting – splits disk image files.
Support larger than 512-byte sector.
Support real hard disk up to 4TB.
System backup – Full system protection allows you to easily back up and recover your entire operating system when disaster happens.
Full backup – back up all the data on the selected partitions or hard disks, whether it has been backed up or not. Moreover, a full backup is the basis of incremental and differential backup.
Incremental backup – Only back up changes made since the last backup, significantly reducing backup time and storage space.
Differential backup – Only back up changes made since the last full backup, saving time and storage space.
Schedule backups – set up a schedule to back up your system and all files automatically, supporting daily, weekly, and monthly.
Backup Strategy – automatically delete the obsolete backup images based on specified value – the age and the number.
Unattended backup – Runs as a Windows service – ideal for unattended Servers. Backs up even when system logged out, slept or hibernated.
Solo per oggi, QILING Disk Master Pro 3.9.2 è offerto gratuitamente.

Per usufruire dell'offerta dovete scaricare ed installare il programma cliccando sul link al fondo dell'articolo, dovete scompattate il file .ZIP, quindi avviare il file .EXE appena scaricato e installate il programma seguendo la procedura guidata di QILING Disk Master Pro 3.9.2 una volta completata l'installazione cliccate sul file di testo ReadMe.txt per sapere come ricevere la licenza gratuita in modo da attivare la versione completa di QILING Disk Master Pro 3.9.2.
Potete scaricare QILING Disk Master Pro 3.9.2 gratis cliccando sul seguente pulsante: