FileStream TurboZIP Express 7.2 Gratis: Ottima alternativo a WinZip e WinRar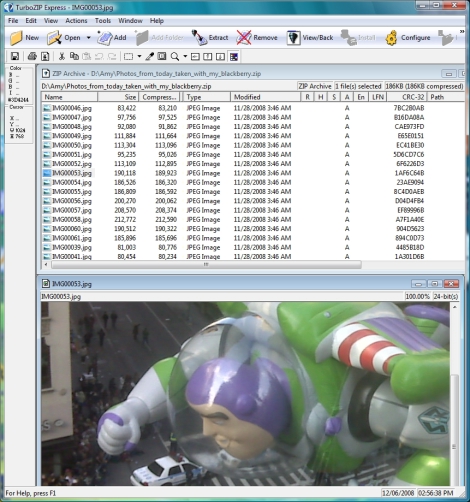 TurboZIP Express è un software potente, intuitivo e facile da usare per la gestione di file Zip e Cab pronto a soddisfare le esigenze di utenti alle prime armi ed esperti. TurboZIP Express è veloce e la sua interfaccia accattivante permette di fare tutto in un lampo. Oltre a fornire pulsanti colorati nella barra degli strumenti per l'accesso veloce alle operazioni più comuni, si integra perfettamente in Windows aggiungendo funzioni quali la creazione e la decompressione di archivi ZIP dal menu del click destro.
Caratteristiche TurboZIP
The intuitive interface makes it a pleasure to use for everyone
Span files to units of any maximum file size of your choice.
Multi-threading: Add, Zip, Unzip multiple files just like one.
 To view, print, copy, edit files within ZIP without unzipping.
Leading edge ActiveX support of PDF, Office, Photo, Video, MP3.
Solo per oggi, FileStream TurboZIP Express 7.2 è offerto gratuitamente.

Per usufruire dell'offerta dovete scaricare ed installare il Software dal Link al fondo dell'articolo, scompattate il file .ZIP scaricato, quindi avviare il file .EXE appena scaricato e installate FileStream TurboZIP Express 7.2 una volta completata l'installazione cliccate sul file di testo ReadMe.txt per sapere come ricevere la licenza gratuita per attivare la versione completa di FileStream TurboZIP Express 7.2.
Potete scaricare FileStream TurboZIP Express 7.2 Gratis cliccando sul seguente pulsante: