Gestire gli MP3 con Zortam MP3 Media Studio Pro gratis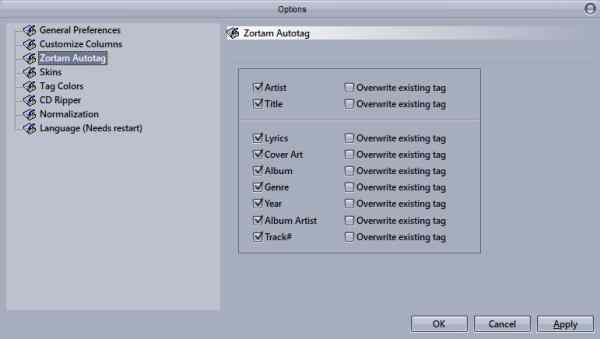 Zortam MP3 Media Studio è un pacchetto completo per applicazioni MP3, che comprende diversi moduli: Zortam MP3 Auto Tagger, MP3 Organizer, ID3 Tag Editor, MP3 Player, MP3 Normalizer, CD Ripper, MP3 to Wav converter. Il programma individuerà la tua musica, scaricherà le copertine di album mancanti, testi, e altre info di tracce, come artista, genere, anno, nome della traccia e il numero della traccia in automatico. Tutte le informazioni delle tracce possono essere visualizzate su iPhone, iPod, iTunes, dispositivi mobili e tablet Android.
Features
Automatically lookup and bulk add cover art to mp3
Auto tag Mp3 files and clean up mp3 tags automatically
Write ID3 tags from filenames using custom and predefined formats
Rename mp3 files using ID3 tags using custom and predefined formats
Normalize or change Mp3 files volume
Find missing cover art
Search for duplicate Mp3 files using Mp3 tags or file information
Included Zortam Mp3 Player gives you a show of lights and images visualizing the covers of your albums and song lyrics.
Integrated CD Ripper can add cover art and lyric with other tags to your mp3 files
Export whole or part of Mp3 library (.zor) to CSV,Excel, HTML
Our software recognizes over 35 million music items
Solo per oggi, Zortam MP3 Media Studio Pro 20.10 è offerto gratuitamente.

Per usufruire dell'offerta dovete scaricare ed installare il programma cliccando sul link al fondo dell'articolo, dovete scompattate il file .ZIP, quindi avviare il file .EXE appena scaricato e installate il programma seguendo la procedura guidata di Zortam MP3 Media Studio Pro 20.10 una volta completata l'installazione cliccate sul file di testo ReadMe.txt per sapere come ricevere la licenza gratuita in modo da attivare la versione completa di Zortam MP3 Media Studio Pro 20.10.
Potete scaricare Zortam MP3 Media Studio Pro 20.10 gratis cliccando sul seguente pulsante: