Mantieni il tuo PC aggiornato. Download SuMO gratis
Mantieni il tuo PC aggiornato e al sicuro utilizzando la versione più recente del tuo programma preferito – SUMo (Software Update Monitor)! A differenza di funzioni incorporate di aggiornamento automatico, SUMo ti informa sugli aggiornamenti disponibili prima di utilizzare il tuo programma.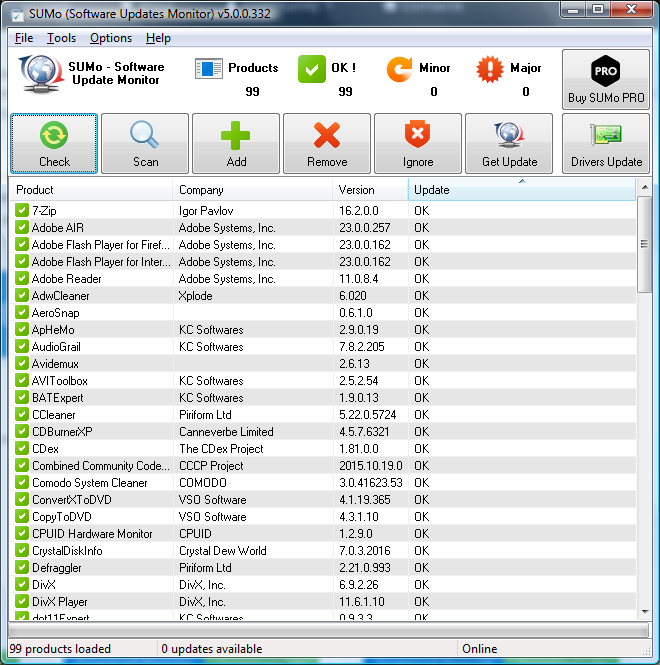 Caratteristiche principali
Individuazione automatica del programma installato;
Individua aggiornamenti/patch per il tuo programma;
Individua aggiornamento driver richiesti (richiede DUMo);
Filtra/autorizza versioni Beta (impostazioni utente);
Lista ignora: traccia solo programmi che TU vuoi tracciare;
Maggiore compatibilità e meno falsi positivi rispetto ad altri Monitor (secondo il feedback degli utenti).
Automatic detection of installed software
Detects required updates / patchs for your software
Detects required drivers update (requires DUMo)
Filter / authorize Beta versions (user setting)
Automatic self-update (PRO only)
Direct access to software developer's web site (PRO only)
Ignore list : only tracks software YOU want to track
More compatibility and less false positive than others Update Monitors (according to users feedback 😉
Internationalization support.
Solo per oggi, Sumo 5.1.3 è offerto gratuitamente.

Per usufruire dell'offerta dovete scaricare ed installare il programma cliccando sul link al fondo dell'articolo, dovete scompattate il file .ZIP, quindi avviare il file .EXE appena scaricato e installate il programma seguendo la procedura guidata di Sumo 5.1.3 una volta completata l'installazione cliccate sul file di testo ReadMe.txt per sapere come ricevere la licenza gratuita in modo da attivare la versione completa di Sumo 5.1.3.
Potete scaricare Sumo 5.1.3 gratis cliccando sul seguente pulsante: