Organizzare, modificare, editor Tag ed altro per Mp3 e musica
Zortam Mp3 Media Studio è una suite di applicazioni completa. Ha diversi moduli come Zortam Mp3 Auto Tagger, Mp3 Organizer, ID3 Tag Editor, Mp3 Player, Mp3 Normalizer, BPM (Beat per Minuto) Analyzer,CD Ripper, YouTube To Mp3 Converter, Mp3 to Wav converter. Con Zortam Mp3 Media Studio puoi autotaggare in modalità batch i tuoi file Mp3, rinominare i tuoi file Mp3 utilizzando le informazioni del tag Mp3, scrivere Tag Mp3 dal nome del file. Il processo di autotagging in modalità batch scarica automaticamente le informazioni grafiche dell'album, i testi e altri meta dati, come l'artista, il titolo, l'anno, il genere, le informazioni delle trace sui tuoi file Mp3.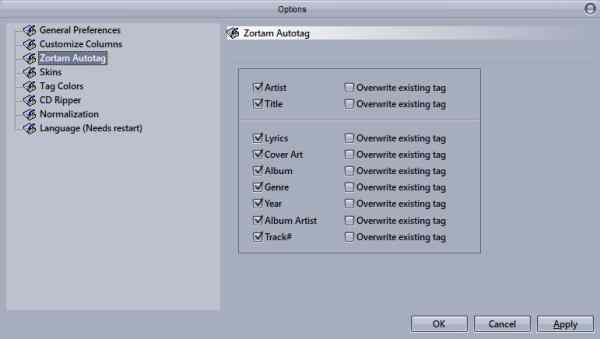 Il programma identifica la tua musica, utilizzando la tecnologia avanzata digitale delle impronte digitali, scarica automaticamente la grafica dell'album mancante, i testi e altri informazioni delle tracce, comprese l'artista, il genere, l'anno, il nome della traccia, il numero della traccia.
Il nostro programma è in grado di riconoscere più di 35 milioni di titoli musicali. Grafica dell'Album, Testi e dati possono essere visualizzati in iTunes, dispositivi mobili iPhone, iPod e Android o tablet.
Solo per oggi, Zortam Mp3 Media Studio Pro 21.15 è offerto gratuitamente.

Per usufruire dell'offerta dovete scaricare ed installare il programma cliccando sul link al fondo dell'articolo, dovete scompattate il file .ZIP, quindi avviare il file .EXE appena scaricato e installate il programma seguendo la procedura guidata di Zortam Mp3 Media Studio Pro 21.15 una volta completata l'installazione cliccate sul file di testo ReadMe.txt per sapere come ricevere la licenza gratuita in modo da attivare la versione completa di Zortam Mp3 Media Studio Pro 21.15.
Potete scaricare Zortam Mp3 Media Studio Pro 21.15 gratis cliccando sul seguente pulsante: