PDF to X 4 Gratis: Convertire PDF in Word, HTML, JPG e altri formati [Windows App]
PDF to X viene utilizzato per convertire documenti PDF in Word (. doc) / WordPad (. rtf) pagine web HTML, immagini JPG / PNG / BMP / TIF / GIF / PCX / TGA e file di testo in modalità batch. Funziona senza Adobe Acrobat o Adobe Reader e dispone di un'interfaccia molto intuitiva. Garantisce conversioni sempre accurate.
Il software conserva il testo, le immagini, il formato e il layout originale dei documenti PDF, entro i limiti del possibile. Inoltre, PDF to X supporta la conversione dei file PDF protetti da password e permette di specificare l'intervallo di pagine da convertire (per DOC, RTF, JPG, GIF, PNG, BMP, TIF, PCX, TGA file). Supporta inoltre la conversione dei file PDF che hanno restrizioni e include funzioni come il salvataggio come testo, l'estrazione delle pagine e la stampa.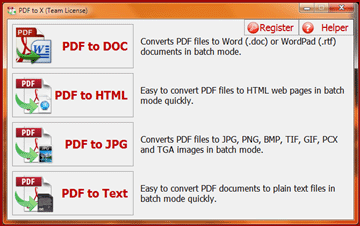 Solo per oggi, PDF to X 4 è offerto gratuitamente.

Per usufruire dell'offerta dovete scaricare ed installare il Software dal Link al fondo dell'articolo, scompattate il file .ZIP scaricato, quindi avviare il file .EXE appena scaricato e installate PDF to X, una volta completata l'installazione cliccate sul file di testo ReadMe.txt per sapere come ricevere la licenza gratuita per attivare la versione completa di PDF to X.