Photo Retoucher 1.4 Gratis: Ottimizzare e migliorare le vostre foto in pochi click [Windows App]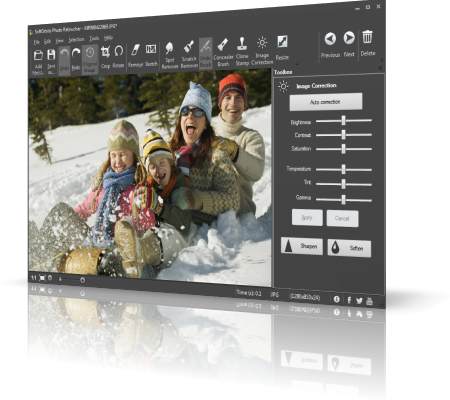 SoftOrbits Photo Retoucher vi consente di svolgere vari tipi di operazioni sulle vostre foto. Vi offre la possibilità di rimuovere loghi e watermarks, di aggiungere la data alle immagini o di modificare le foto stesse per migliorarne la qualità.
Modificare le foto con SoftOrbits Photo Retoucher
In modo completamente automatico, infatti, SoftOrbits Photo Retoucher vi permette di migliorare sensibilmente la qualità dei vostri scatti, andando ad agire direttamente sui pixel della fotografia.
Caratteristiche principali SoftOrbits Photo Retoucher:
Remove unwanted watermarks, date stamps, people, cars, rubbish and other objects from new photos
Rejuvenate old photos
Retouch Portraits, remove skin defects
Easy-to-use and user-friendly
No need to install large photo editors
Restoring Old Photos
Migliorare la qualità di una foto con SoftOrbits Photo Retoucher
Ripulite le vostre vecchie foto dai segni del tempo, cancellate elementi indesiderati e migliorate i vostri scatti trasformando foto normali in immagini perfette.
SoftOrbits Photo Retoucher può rendere le vostre foto perfette, al punto che desidererete incorniciarle tutte e appenderle al muro!
Solo per oggi, SoftOrbits Photo Retoucher 1.4 è offerto gratuitamente.

Per usufruire dell'offerta dovete scaricare ed installare il Software dal Link al fondo dell'articolo, scompattate il file .ZIP scaricato, quindi avviare il file .EXE appena scaricato e installate SoftOrbits Photo Retoucher, una volta completata l'installazione cliccate sul file di testo ReadMe.txt per sapere come ricevere la licenza gratuita per attivare la versione completa di SoftOrbits Photo Retoucher.