Presentation Assistant Standard Edition 2.7.2 Gratis con Licenza: Prendere note su schermo, zoomare presentazioni e realizzare dimostrazioni con fini didattici [App Windows]
Presentation Assistant è uno dei migliori strumenti per realizzare annotazioni su schermo, zoomare presentazioni e realizzare dimostrazioni con fini didattici. Ideale per l'insegnamento, le riunioni e l'illustrazione di prodotti o servizi. Il programma consente agli utenti di realizzare annotazioni su schermo e zoomare le aree delle presentazioni in tempo reale. Con gli strumenti di annotazione inclusi, è possibile disegnare tutti i tipi di linee, rettangoli, cerchi, o aggiungere testi e immagini sullo schermo.

Presentation Assistant offre anche altri strumenti, quali orologio, lente d'ingrandimento, evidenziazione, cattura dello schermo e molto altro ancora.
Features:

Mark freely on screen

Electronic Whiteboard
Pen, Brush, Line, Poly Line, Rectangle, Ellipse, Text, Image, Shape Recognition
Transparency Effects.
Different pen width and color.
Undo, Redo, Export
Draw freely on the board
Add as many boards as you want
Set different background color

Full Screen Zoom

Spotlight & Curtain
Zooming screen with the keyboard or wheel
Zoom with selection rectangle
Allow annotating
Different Shapes
Transparency Effects

Countdown

Task Shortcuts
Displays a countdown or a normal clock on the projection screen.
Open documents and programs quickly during the presentation.

Playing background music

Monitor Switch
Playing background music conveniently.
Quickly move windows between monitors.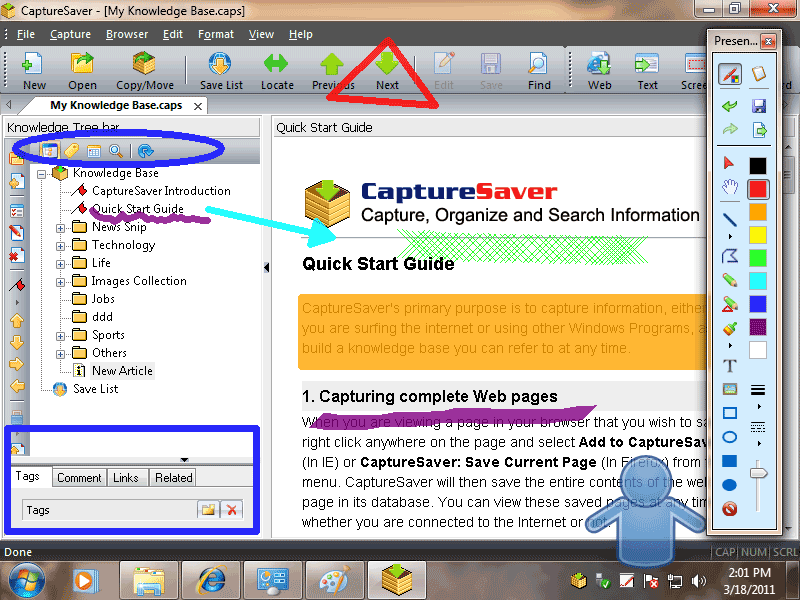 Pointer Effect

Mouse Click Effect
Highlight Visibility Pointer
Highlight Mouse Movements
Spotlight Effect
Display a circle when you click your mouse
Different colors for different buttons
Animation Effect
Play Click Sounds

Live Drawing

Live Zoom
Allows you to draw freely on the screen but not lock the screen.
Draw horizontal, vertical lines
Draw arrow lines
Press hotkey to clear all
Zoom in and zoom out the windows but allows you to work on the screen.
Support the drawing

Keystrokes Displaying

Flexible, Easy to Use
Displays your keystrokes in an overlay at the bottom of the screen.
Keystroke Filter: Allows you to define a list of custom keystrokes that will not be displayed.
Activate or deactivate all effects with the toggle Hotkey.
All effects can be operated in two different modes: Standalone or Together.
Everything about Presentation Pointer is customizable:

Arrow Point

Screen Capture
Drag on the Arrow Point to move in any direction
Select different color and change the size
Capture entire screen, selected window or region of screen.

Screen Digital Clock

Hide output on projection screen
Solo per il oggi, 27 Giugno 2013, Presentation Assistant Standard Edition 2.7.2 è offerto gratuitamente.
Per usufruire dell'offerta dovete scaricare ed installare il Software dal Link al fondo dell'articolo, avviare il file Setup.EXE e seguire le istruzioni presenti nel file readme.txt per attivare Presentation Assistant Standard Edition nella versione completa senza limitazioni.