Ridurre dimensione PDF
PDF Compressor è una utility di Windows, che comprime file PDF scansionati e riduce la dimensione del file PDF (Rapporto di Compressione: 23%) in maniera veloce e facile. Questo tool permette agli utenti di modificare il valore di compressione per ottenere un risultato di compressione migliore e qualità del contenuto. Inoltre, il programma supporta la modalità batch e permette agli utenti di comprimere centinaia di documento PDF simultaneamente.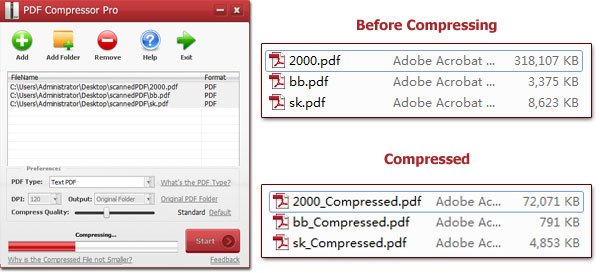 Se avete un file PDF di dimensioni generose con questo programma, che solo per oggi è offerto gratuitamente, potrete ridurre le dimensioni complessive del file fino ad un quarto della dimensione totale andando a mantenere intatta la qualità complessiva del file che sarà comunque leggibile e di qualità.
Features
Reduce PDF File Size
Support Restricted PDF Files
Support Batch Mode
Keep the PDF Quality
No Need Adobe Acrobat Installed
Compress PDF Files Fast
Easy to Use
Solo per oggi, PDF Compressor Pro 3.1.2 è offerto gratuitamente.

Per usufruire dell'offerta dovete scaricare ed installare il programma cliccando sul link al fondo dell'articolo, dovete scompattate il file .ZIP, quindi avviare il file .EXE appena scaricato e installate il programma seguendo la procedura guidata di PDF Compressor Pro 3.1.2 una volta completata l'installazione cliccate sul file di testo ReadMe.txt per sapere come ricevere la licenza gratuita in modo da attivare la versione completa di PDF Compressor Pro 3.1.2.
Potete scaricare PDF Compressor Pro 3.1.2 gratis cliccando sul seguente pulsante: