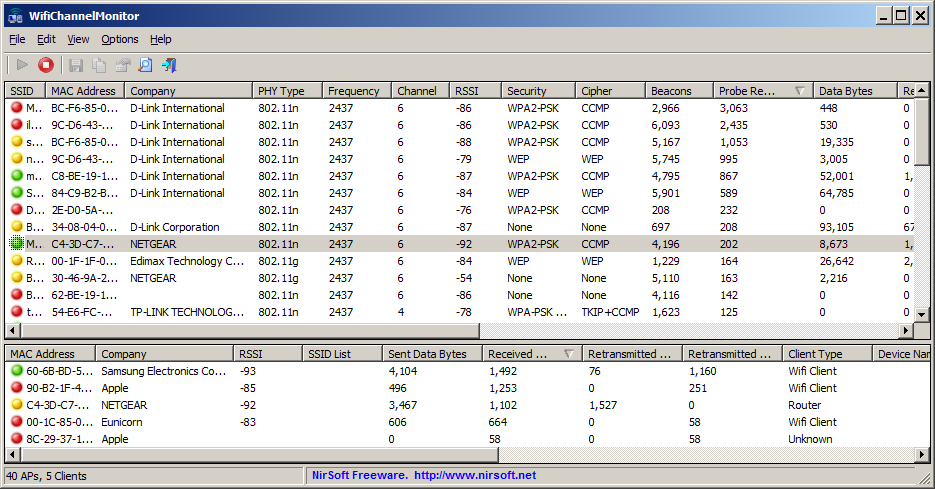 Ormai le reti Wifi sono diffusissime e non è difficile trovare qualche rete libera oppure reti che utilizzano la password di default rilasciata dagli operatori telefonici che tramite qualche programmino è possibile scovare e dunque collegarci alle reti Wifi senza il consenso del proprietario.
WifiChannelMonitor è un piccolo programma gratuito che permette di vedere tutti i dispositivi collegati alla nostra rete wireless e per ogni dispositivo verranno mostrati informazioni dettagliate come il SSID, MAC Address, produttore della periferica, PHY tipo, canale, RSSI, sicurezza, Beacons Count, Probe Responses Count, Data Bytes, Retransmitted Data Bytes ed altro.
Dunque molte informazioni sono visualizzate per ogni dispositivo client connesso con la quale potremo risalire con esattezza al dispositivo incriminato e magari metterlo nella lista nera dei MAC non consentiti oppure attivare sul nostro router delle retistrizioni, cambiare la password di default oppure inserire un bel filtro MAC per autorizzare solo i nostri dispositivi.
Changelog version 1.25
Added 'Maximum Speed' column for both APs and wifi clients.
Added 'Beacons Per Second' column.
Added 'Show All Clients With AP' option.
Potete scaricare Wifi Channel Monitor gratuitamente ed in versione portable cliccando sul link seguente in base alla versione del vostro sistema operativo: