Timer, Countdown e Sveglia per i nostri appuntamenti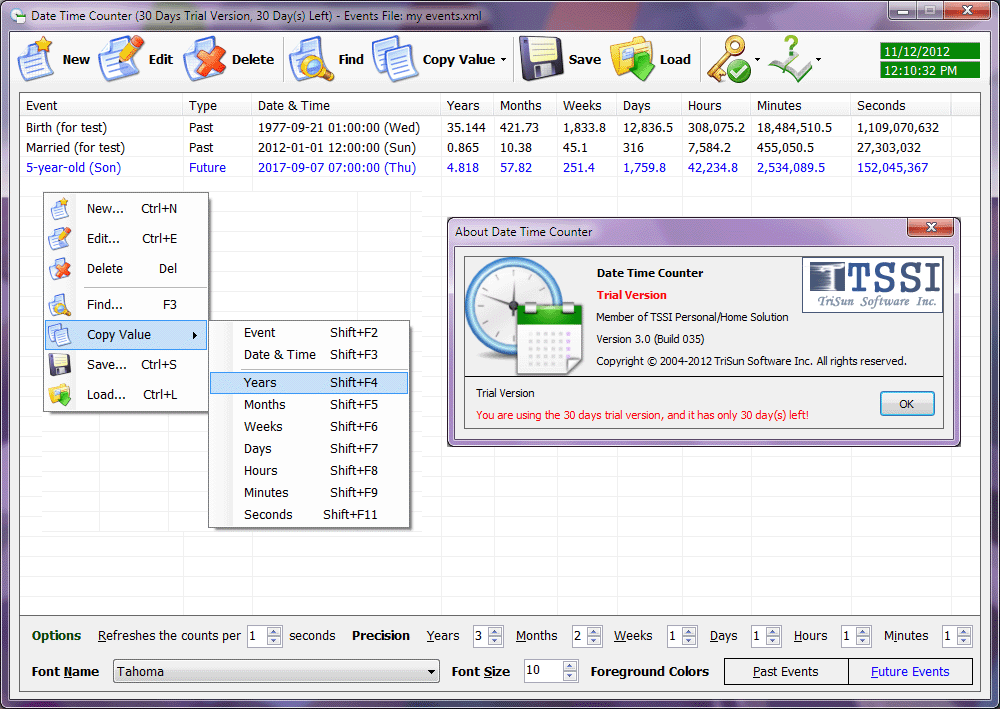 Date Time Counter è in grado di contare anni, mesi, settimane, giorni, ore, minuti e secondi per eventi importanti del pasato/futuro, in base alla data e ora corrente, come: compleanno, matrimonio e anniversario. È come un timer alla rovescia di eventi futuri e un indicatore temporale di eventi passati.
New features
Important: perfected UI effect for any system DPI setting, in any supported Operating Systems (system DPI setting: in Windows 7, it can be changed at "Control Panel -> Appearance and Personalization -> Display -> Make text and other items larger or smaller").
Important: supports Windows 10.
Important: optimized the definition of some icons/images, especially, toolbar icons.
Important: do not install DTC to "User Application Data" folder forcibly.
Important: uses Golden Ratio for the main interface and its start position.
Moved all actions which need to run the default email client to the online webpages, in order to avoid the confusion if who has not a default email client.
Now you can easily to open the database folder, in order to send to us during technical support.
Can edit selected event by pressing the <Enter> key.
Beautified all interfaces.
Optimized internal efficiency.
Optimized Help menu.
Optimized software texts.
Optimized the webpages.
Redesigned the licenses.
Solo per oggi, Date Time Counter 4.0 è offerto gratuitamente.

Per usufruire dell'offerta dovete scaricare ed installare il programma cliccando sul link al fondo dell'articolo, dovete scompattate il file .ZIP, quindi avviare il file .EXE appena scaricato e installate il programma seguendo la procedura guidata di Date Time Counter 4.0 una volta completata l'installazione cliccate sul file di testo ReadMe.txt per sapere come ricevere la licenza gratuita in modo da attivare la versione completa di Date Time Counter 4.0.
Potete scaricare Date Time Counter 4.0 gratis cliccando sul seguente pulsante: