Tipard DVD to MP4 Converter 7.1.52 Gratis: Convertire DVD in Mp4, AVI e molti altri formati su Windows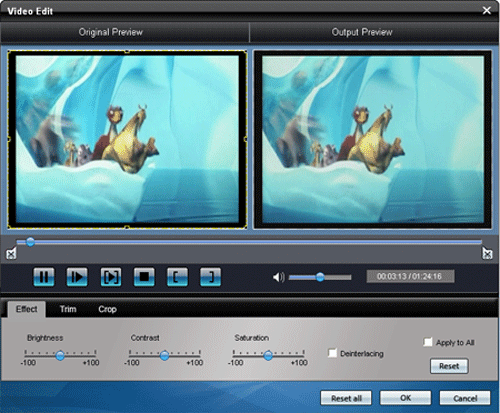 Tipard DVD to MP4 Converter converte qualsiasi DVD in video MP4, AVI, MOV e altri formati compatibili con tutti i principali player. Include diversi profili di conversione dedicati ai dispositivi portatili, come iPhone (iPhone 6/6 Plus / 5 / 5s / 4 / 4S / 3GS), iPad (iPad Air / Air 2 / mini / mini 2 / mini 3, ecc), smartphone di LG, HTC, Samsung (serie serie Galaxy e Note incluse), Sony, console PSP, player Zen, Zune, console Xbox, ecc. È anche in grado di convertire DVD in formati HD, come H.264, AVI, MPEG 4, MOV, ecc. Offre diverse opzioni che consentono di controllare la qualità del video che si ottiene dopo la conversione.
Volete godervi la vostra musica preferita su DVD sul vostro lettore musicale? È possibile utilizzare questo programma per convertire DVD musicali in file MP3, FLAC, AAC, AIFF, WMA e altri formati molto popolari. Le impostazioni consentono di definire in maniera precisa la qualità acustica dei file di output.
Oltre alla funzione di conversione di base, Tipard DVD to MP4 Converter è un editor video che permette di tagliare i film in clip più piccoli, unire più capitoli in uno, regolare la luminosità del video, la saturazione, il contrasto, le tonalità dei color e aggiungere watermark.
Solo per oggi, Tipard DVD to MP4 Converter 7.1.52 è offerto gratuitamente.

Per usufruire dell'offerta dovete scaricare ed installare il Software dal Link al fondo dell'articolo, scompattate il file .ZIP scaricato, quindi avviare il file .EXE appena scaricato e installate Tipard DVD to MP4 Converter 7.1.52 una volta completata l'installazione cliccate sul file di testo ReadMe.txt per sapere come ricevere la licenza gratuita per attivare la versione completa di Tipard DVD to MP4 Converter 7.1.52.
Potete scaricare Tipard DVD to MP4 Converter 7.1.52 Gratis cliccando sul seguente pulsante: