Video to Picture Converter 4.0 Gratis: Convertire Video in Immagini velocemente [Windows App]
Alcune volte può essere necessario convertire normali video in immagini per estrarre singoli frame o per creare delle GIF animate.
Video to Picture Converter è un programma molto versatile che consente di convertire file video in formati come AVI, MPEG, WMV, DVD (VOB), DVR-MS RM e RMVB in formati di immagini come JPG, BMP, GIF, TGA, TIF, PCX, PNG e ICO mantenendone intatta la qualità originale.
Caratteristiche principali:
Converte video in serie di immagini;
Converte video in GIF animate;
Supporta tutti i principali formati di video e immagini;
Controllo preciso del Frame Rate;
Player video integrato che supporta tutti i formati di video;
Applica effetti speciali e regolazioni per luminosità, sfocatura, inversione di colori, rumore ecc.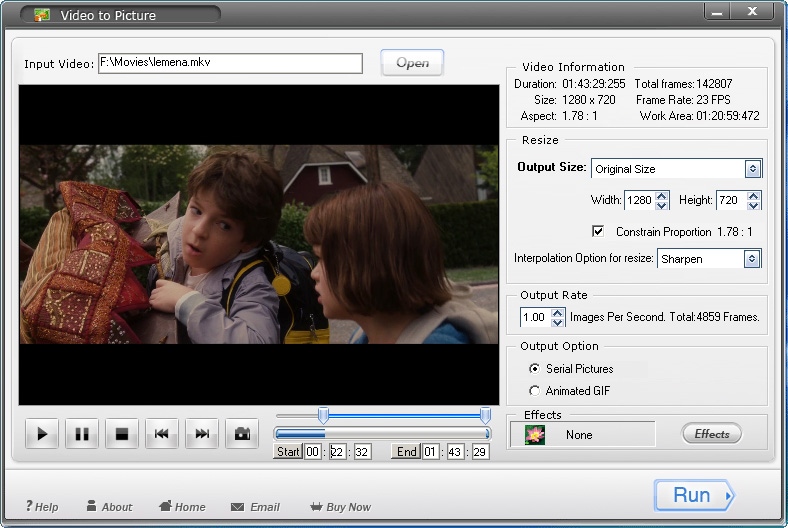 Solo per oggi, Video to Picture Converter 4.0 è offerto gratuitamente.

Per usufruire dell'offerta dovete scaricare ed installare il Software dal Link al fondo dell'articolo, scompattate il file .ZIP scaricato, quindi avviare il file .EXE appena scaricato e installate Video to Picture Converter, una volta completata l'installazione cliccate sul file di testo ReadMe.txt per sapere come ricevere la licenza gratuita per attivare la versione completa di Video to Picture Converter.