VideoCacheView: Download Video da Internet cercando nella cache del Browser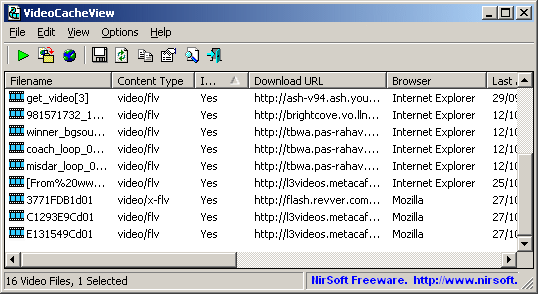 Scaricare video da Internet è un'operazione semplice se ci affidiamo ai giusti software ma in alcuni casi il download dei video dal web non è possibile per via di alcune limitazioni imposte dagli sviluppatori. Un trucchetto che permette di avere il video completo che non è possibile scaricare è andare a scandagliare la memoria cache del browser come Firefox, Chrome ed Internet Explore dove vengono memorizzati i file temporanei i video visualizzati.
VideoCacheView è un piccolo programma per Windows, disponibile in Italiano ed anche in versione portable, che effettua la scansione della cache del browser e ricerca di tutti i file video, come quelli di vimeo e dailymotion che visualizziamo durante la navigazione Internet. Una volta avviato otterremo un elenco di filmati che possono essere riprodotti con il nostro player preferito.
Chagelog ultima versione:
Version 2.85: Added option to scan only files from the last xx hours.
Version 2.82: Fixed VideoCacheView to detect the files inside Pepper Data\Shockwave Flash folder when specifying it as temporary folder in the 'Advanced Options' window.
Version 2.81: Fixed bug: VideoCacheView failed to retrieve some of the long URLs of Chrome Web browser (and without the URLs, VideoCacheView also failed to merge split video files).
VideoCacheView è disponibile gratuitamente sul sito web di Nirsoft ed è disponibile anche in versione Portable ed in Italiano e potete scaricare l'ultima versione cliccando sul link seguente: