Download SMS Backup & Restore Pro v6.00, backup SMS per Android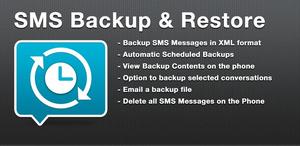 SMS Backup & Restore Pro v6.00
In italiano Versione senza pubblicità e ads.
Un App semplice per il backup e ripristino di messaggi SMS su Android
SMS Backup & Restore Pro è un fantastico programma che permette di fare il backup completo dei vostri SMS su Android.
Il software è facilissimo da utilizzare e permette di salvare tutti i vostri messaggi su Android.
E' possibile impostare il programma affinchè faccia il backup in automatico, oppure farlo manualmente quando ne sentite l'esigenza.
Il backup può essere salvato sullo smartphone, esportato in file XML o allegato a una mail per averlo sempre a disposizione.
Un programma davvero comodissimo, che definirei quasi indispensabile, soprattutto per chi non vuole o non può perdere i propri SMS su Android.
In questo modo i vostri messaggi SMS saranno sempre al sicuro, perchè SMS Backup & Restore Pro vi permette di fare un backup completo dei messaggi SMS su Android e di ripristinare il backup in pochi e semplici click.
Cosa offre:
* Backup automatici pianificati.
* Mostra contenuto di backup.
* I backup creati in formato XML sulla scheda SD.
* Opzione per il backup conversazioni selezionate solo.
* MMS non ancora supportato.
Data aggiornamento: 8 marzo 2013
Versione attuale: 6.00
Funzioni disponibili in questa versione:
– Added an alternate Restore method as a workaround for Restore problems on some devices. The app will prompt the user to try the alternate way when the restore fails. It can be manually switched on from Preferences as well. The alternate Restore may result in the Phone App crashing, pressing OK on the message will restart the app. After that Resume Restore.
– Opening the app after a failed Restore will prompt to Resume Restore.
– More bug fixes.
Link Download:
Non perdere nessuna notizia, offerta o recensione pubblicata sul nostro sito!
Seguici sui social per rimanere sempre aggiornato in tempo reale: