Things per iPad è disponibile gratis per un periodo limitato.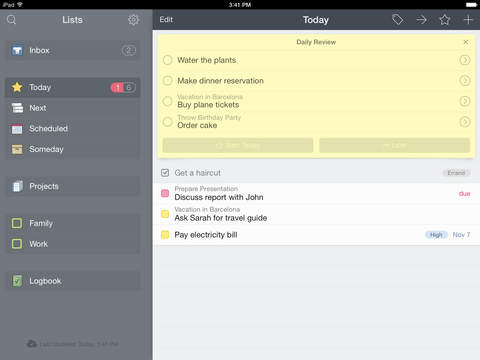 Ogni settimana, come saprete, viene scelta un'app o un gioco presente nell'App Store che viene indicato come App della Settimana. Grazie a questa iniziativa, chi possiede un iPhone o un iPad può scaricare gratis l'app in questione per un breve periodo.
Premiata e presentata come app della settimana, Things per iPad per pochi giorni da oggi sarà disponibile in maniera gratuita su iPad e iPhone.
Caratteristiche di Things per iPad:
Things is a delightful and easy to use task manager. It's the perfect companion for everything you want to achieve in life, offering a great balance between ease of use and powerful features.
"A stylish, simple yet intuitive task manager for the iPad.", "It makes managing tasks not only easy, but fun." – Appstorm.com (9/10)
"What's most striking about the iPad version of Things is that, like the Mac version (which won an Apple Design Award), it presents a stunning interface that could entice even the most disorganized user to, well, get things in order." – Macworld (4 1/2 mice)
"I've moved my to-do items and projects among nearly a dozen iPad apps for so long that I now know them by heart. I've tried apps that are more expensive, less expensive, ad supported, and free, but at the end of the day the one I liked best was Cultured Code's Things." – Incredible iPad Apps for Dummies
https://itunes.apple.com/it/app/things-for-ipad/id364365411?mt=8