Il Jailbreak per Nintendo Switch è già disponibile e lo ha fatto un Hacker Italiano
Già disponibile il jailbreak per Nintendo Switch e lo ha reso disponibile un hacker Italiano
La nuovissima console di Nintendo, Switch, ha già il suo jailbreak proprio come iPhone. La console della casa giapponese, a pochi giorni dalla sua commercializzazione ufficiale sul mercato ha il metodo per entrare nel sistema chiuso di Nintendo. Il tutto è possibile grazie a Luca Todesco, noto hacker italiano che aveva già distribuito il jailbreak per iOS 9.3.2 e che ritorna con questo hack sulla console di Nintendo.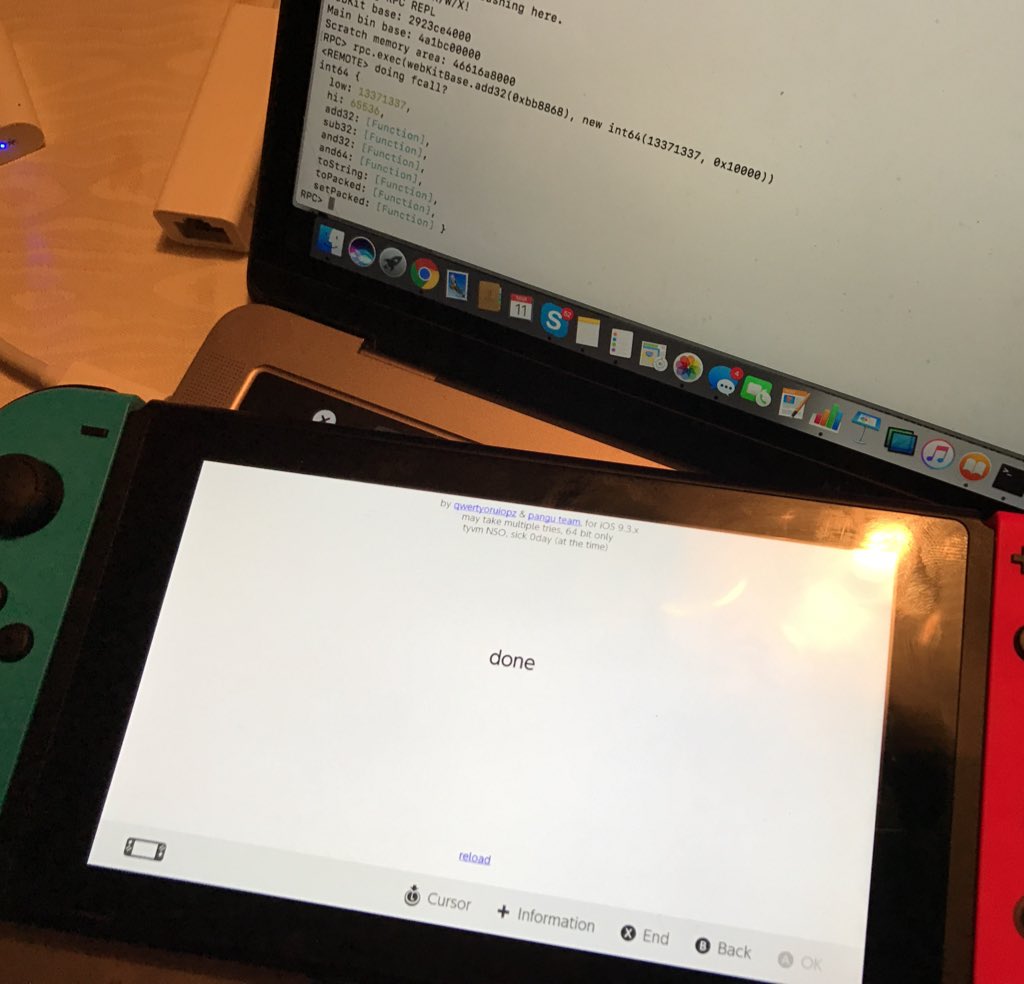 Al momento non sono stati rivelati i dettagli ma il tutto è stato ufficializzato tramite un post su Twitter con tanto di foto.
Non sappiamo se l'hack è stato semplice per volontà di Nintendo oppure se la casa giapponese correrà ai ripari per impedire le mod da parte degli utenti che ovviamente permetterà di far girare giochi pirata senza pagare.
Cos'è Nintendo Switch?
Nintendo Switch sono due console in una, una console portatile con display dedicato con controlli laterali staccabili e utilizzabili come controller della versione casalinga, che si ottiene inserendo lo schermo/dispositivo portatile in una stazione fissa che mette in comunicazione il Nintendo Switch con la televisione.
Caratteristiche Tecniche Nintendo Switch
Lo schermo di Nintendo Switch è touch capacitivo, vediamo qualche dettaglio in più:
Schermo: 6,2″ HD (1.280 x 720 pixel) capacitivo multi-touch
Memoria interna: 32 GB espandibili tramite microSD
Altro: USB Type-C, Sensore di luminosità
Dock: alimentazione, 3 x USB 3.0, HDMI, indicatore di collegamento al TV
Segnalo infine che Nintendo Switch leggerà cartucce e non CD. La memoria interna sarà limitata a 32 GB e l'unico supporto aggiuntivo su cui potremo memorizzare dati e giochi saranno le Micro SD. Nintendo Switch legge Micro SDXC sino a 128 GB.
Prezzo e disponibilità Nintendo Switch
Nintendo Switch è disponibile dal 3 marzo, anche in Italia, ad un costo di 329 euro.
La confezione di vendita includerà la console, i controller Joy-Con destro e sinistro, una impugnatura Joy-Con (a cui si collegano i due Joy-Con per formare un controller), un set di laccetti per Joy-Con, la base per Nintendo Switch (che ospita la console e si collega al televisore), un cavo HDMI e un blocco alimentatore.
Saranno disponibili due versioni della console: una con i Joy-Con grigi e una con un Joy-Con blu neon e uno rosso neon.
Quali giochi saranno disponibili per Nintendo Switch?
Tra i tanti giochi che saranno disponibili su Nintendo Switch troviamo, ad esempio, Splatoon 2, Super Mario Odyssey e Xenoblade 2. Ma abbiamo anche The Legend of Zelda: Breath of the Wild, 1-2-Switch, ARMS, Splatoon 2, Super Mario Odyssey, Snipperclips – Diamoci un taglio! In totale sono oltre 80 i giochi attualmente in sviluppo per Nintendo Switch.
Dove comprare Nintendo Switch
Vuoi acquistare Nintendo Switch e giocarci da subito ecco il link per comprare Nintendo Switch in offerta: