Accelerare i Download da Internet di contenuti multimediali
EagleGet è un programma gratuito per scaricare tantissimo materiale dal web e velocizzare il download tramite le tecnologie integrate nel programma.
EagleGet è un programma gratuito disponibile per Windows che permette di scaricare video, immagini, file, documenti e quant'altro da Internet ed accelerare il download di questi attingendo da più fonti.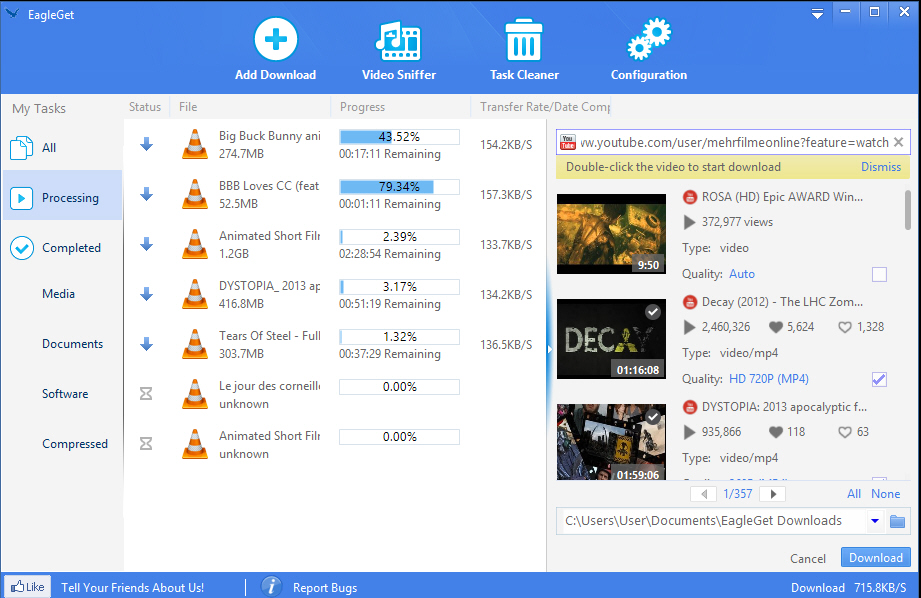 Da qualche giorno sto provando EagleGet e devo dire che mi piace molto. E' leggero ed intuitivo e permette di avviare il download di video da Yo*uTu*be, foto ed immagini, documenti, film ed molto altro in modo facile e veloce semplicemente copiando il link della pagina e selezionando i contenuti da scaricare.
EagleGet è disponibile in versione per Windows portabile e poi anche come estensione per Google Chrome e Firefox in modo da velocizzare il download semplicemente accedendo al sito internet dove scaricare il materiale.
Features
Accelerate downloads by using multi-threaded technology.
Download online videos from popular sites.
Built-in video sniffer.
Support MMS, HTTP, HTTPS, FTP and RTSP protocols.
Batch downloads function.
Automatic refresh expired download address.
Download files in Chrome, IE, Firefox and Opera with one click.
Built-in download scheduler.
Verify integrity of downloaded files.
Silent Mode (or Game Mode) function.
Import download lists from other download managers.
Supports multi-language interface (up to 20 languages).
Potete scaricare EagleGet gratuitamente cliccando sul link seguente sia in versione Portable che come estensione pr Google Chrome: