Aggiungere i copyright e i watermark ai vostri video con Video Watermark Maker 1.2 Gratis per Windows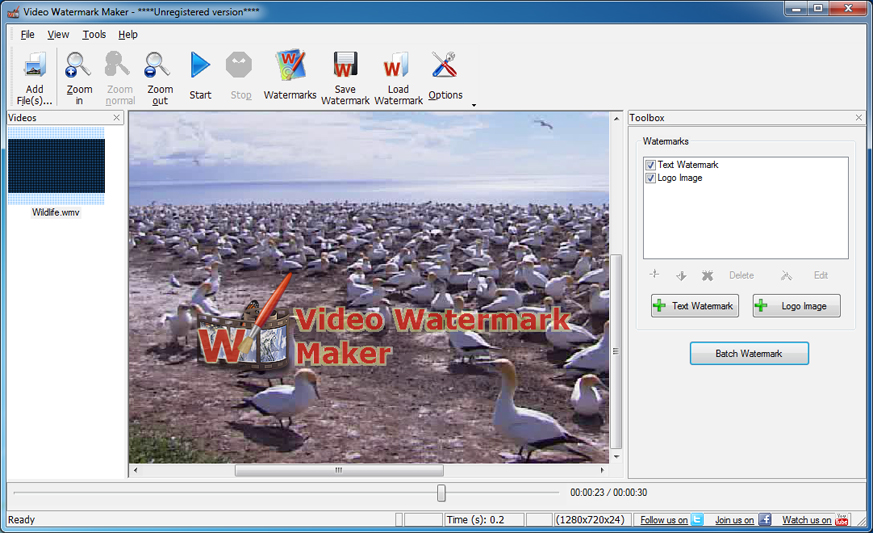 Video Watermark Maker è un programma che permette di proteggere il copyright e l'autenticità dei video applicando dei watermark su di essi. Utilizzandolo, è possibile proteggere i propri video dalle copie non autorizzate mantenendoli al sicuro.
È possibile aggiungere uno o più watermark, visualizzati in maniera permanente o solo in alcuni punti del video. La funzione di ridimensionamento automatico consente di visualizzare il marchio nelle stesse dimensioni indipendentemente dalla risoluzione del video, mentre la comoda elaborazione in batch consente di applicare watermark a più video contemporaneamente in pochi clic. Uno strumento davvero indispensabile per chiunque voglia pubblicare i propri video.
Features:
Easy application of protection and branding of your videos;
Customizable and disappearing watermarks;
Branding your videos including YouTube videos;
Embedding either picture or text watermarks;
Powerful batch processing;
Automated watermark scaling.
Solo per oggi, Video Watermark Maker 1.2 è offerto gratuitamente.

Per usufruire dell'offerta dovete scaricare ed installare il Software dal Link al fondo dell'articolo, scompattate il file .ZIP scaricato, quindi avviare il file .EXE appena scaricato e installate Video Watermark Maker 1.2, una volta completata l'installazione cliccate sul file di testo ReadMe.txt per sapere come ricevere la licenza gratuita per attivare la versione completa di Video Watermark Maker 1.2.
Scaricate Video Watermark Maker 1.2 Gratis cliccando sul seguente pulsante: