Applica fantastici effetti alle tue foto con Glamourizer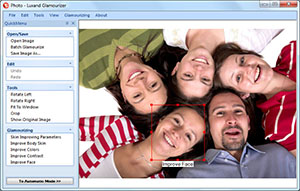 Glamourizer facilita la creazione di ritratti perfetti fuori dal comune. Individuando automaticamente tutte le persone in un foto, Glamourizer leviga la pelle e la fa apparire naturale mentre rimuove le piccole imperfezioni. Regolazioni automatiche della tonalità della pelle e la rimozione di occhi rossi rendono il miglioramento dell'immagine in modalità batch una questione di pochi click del mouse!
Features
Removes Skin Imperfections Glamourizer will make people's skin look healthier on the pictures by applying several enhancements. The product will automatically remove small skin defects such as pimples, wrinkles, and freckles without making the skin look unnatural. Applying just the right amount of texture, Glamourizer makes people's faces look healthy and completely natural without giving them any 'plastic' feel.
Enhances Skin Tones To compensate for varying lighting conditions, Glamourizer will detect color cast and improve skin tones on all pictures, resulting in healthy-looking people with natural skin tones no matter how difficult the light was.
Stand-alone Operation Glamourizer is completely stand-alone, and does not require any third-party tools. This makes Glamourizer easy to learn and to use by any photographer.
Solo per oggi, Glamourizer 1.0 è offerto gratuitamente.

Per usufruire dell'offerta dovete scaricare ed installare il programma cliccando sul link al fondo dell'articolo, dovete scompattate il file .ZIP, quindi avviare il file .EXE (se presente nel file) appena scaricato ed installate il programma seguendo la procedura di installazione guidata di Glamourizer 1.0 ed una volta completata l'installazione cliccate sul file di testo ReadMe.txt per sapere come ricevere la licenza gratuita in modo da attivare la versione completa di Glamourizer 1.0.
Potete scaricare Glamourizer 1.0  gratis cliccando sul seguente pulsante: