Applicare Effetto Sfuocato a diverse immagini contemporaneamente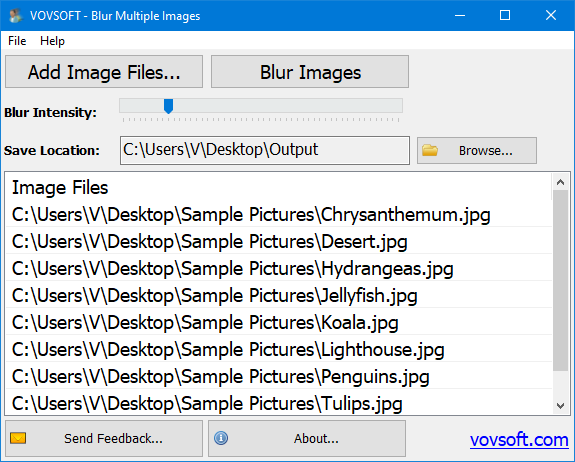 La maggior parte degli editor di immagini ti permettono di applicare diversi tipi di effetti sfuocati, ma il processo non è sempre diretto come vorrebbero molti utenti, e l'editing di diversi file potrebbe richiedere molto tempo.
Blur Multiple Images è una applicazione molto semplice che cerca di offrire una soluzione più accessibile. Ti permette di applicare un effetto sfuocato in soli pochi passaggi. Blur Multiple Images esegue la funzione di importare e sfuocare le immagini nella maniera più semplice possibile.
Una volta aggiunto uno o diversi file, puoi visualizzare l'elenco nella finestra principale e rimuovere qualsiasi elemento importato per errore.
Descrizione originale sul sito web:
Most image editors enable you to apply various types of blurring effects to images, but the process is not always as straightforward as many users would like, and editing multiple files can take a lot of time. Blur Multiple Images is a very simple application that seeks to offer a more accessible solution. It allows you to apply a blurring effect in just a couple of easy steps.
Solo per oggi, Blur Multiple Images 1.1 è offerto gratuitamente.

Per usufruire dell'offerta dovete scaricare ed installare il programma cliccando sul link al fondo dell'articolo, dovete scompattate il file .ZIP, quindi avviare il file .EXE (se presente nel file) appena scaricato ed installate il programma seguendo la procedura di installazione guidata di Blur Multiple Images 1.1 ed una volta completata l'installazione cliccate sul file di testo ReadMe.txt per sapere come ricevere la licenza gratuita in modo da attivare la versione completa di Blur Multiple Images 1.1.
Potete scaricare Blur Multiple Images 1.1 gratis cliccando sul seguente pulsante: