Applicazione di analisi di Rete portabile per LAN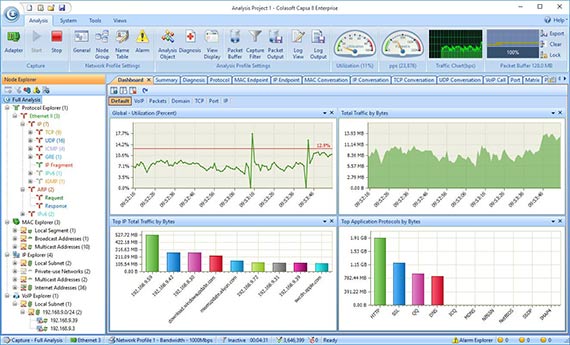 Capsa Standard è una applicazione di analisi di rete portabile per LAN, che esegue una capacità di catturare pacchetti in tempo reale, monitoraggio rete H24, analisi protocollo avanzato, decodifica approfondita del pacchetto e diagnosi specialistica automatica. La visualizzazione della finestra completa di Capsa di alto livello dell'intera rete dà una rapida visione agli ingegneri di rete per localizzare e risolvere i problemi dell'applicazione rapidamente.
Con l'interfaccia più facile da utilizzare e la più potente cattura dei pacchetti dati e motore di analisi del settore, Capsa è un buon tool per il monitoraggio della rete, per la risoluzione di problemi e l'analisi.
Features
Real-time Packet Capture Real-time packet capture as well as the ability to save data transmitted over local networks, including wired network and wireless network like 802.11a/b/g/n.
Advanced Protocol Analysis Identify and analyze 1040 protocols and sub-protocols, including VoIP, as well as network applications which are based on the protocol analysis.
User-friendly Dashboard Easy to use Overview Dashboard allows you to view network statistics at a single glance, allowing for quick interpretation of network utilization data.
Multiple Network Behavior Monitoring E-mail and instant messaging traffic can be monitored and stored, helping identify security and data handling violations.
Quickly Pinpointing Network Problems Suspicious hosts can be detected and diagnosed enabling you to pinpoint network problems in seconds.
Extensive Statistics of Each Host Map the traffic, IP address, and MAC of each host on the network, allowing for easy identification of each host and the traffic that passes through each.
Solo per oggi, Colasoft Capsa 11 Standard  è offerto gratuitamente.

Per usufruire dell'offerta dovete scaricare ed installare il programma cliccando sul link al fondo dell'articolo, dovete scompattate il file .ZIP, quindi avviare il file .EXE (se presente nel file) appena scaricato ed installate il programma seguendo la procedura di installazione guidata di Colasoft Capsa 11 Standard ed una volta completata l'installazione cliccate sul file di testo ReadMe.txt per sapere come ricevere la licenza gratuita in modo da attivare la versione completa di Colasoft Capsa 11 Standard.
Potete scaricare Colasoft Capsa 11 Standard  gratis cliccando sul seguente pulsante: