AudioGrail è la migliore soluzione per modificare con file audio come MP3, OGG ed altri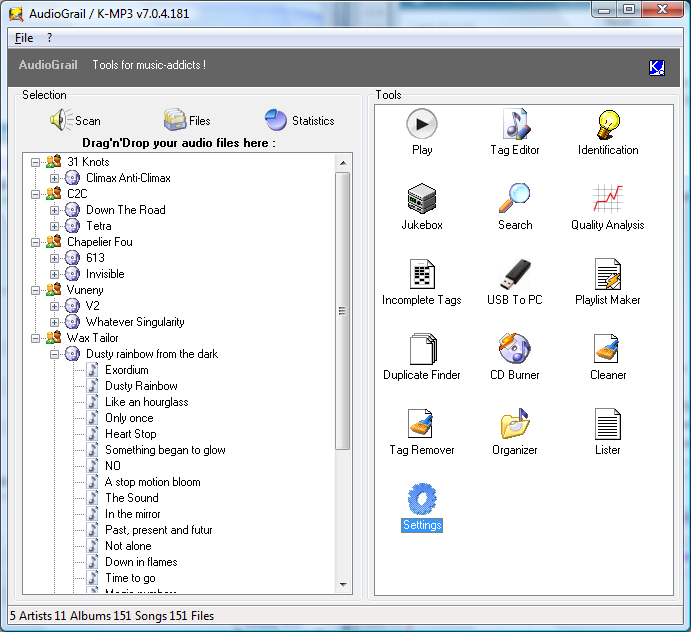 AudioGrail (precedentemente K-MP3) è la migliore soluzione per lavorare con file audio, come MP3, OGG, MPC ecc. Rinominare e taggare i tuoi file (aggiungere nome artista, album, titolo, ecc.) automaticamente. Il programma organizza i file presenti sul tuo sistema, analizza le loro qualità, trova duplicati e migliora la tua esperienza audio.
Caratteristiche Principali:
Supports : MP3, OGG, MPC, APE, AAC, FLAC and WavPack files.
Supports : ID3Tag V1 & V2 tags, Vorbis (Ogg) comments and APEv2 tags.
Automatically Albums Ranaming & Tagging.
Automatically Song Identification and tagging
Automatically finds albums covers
One-by-one tag editor with queue (for multiple files edition).
Audio files To Audio CD burning capabilities (requires CopyToDVD).
Files Names Normalizer (Case Standardization…)
Tags Normalizer (Case Standardization…)
Mass Tags Remover
Files Organizer (Mass Tag To Name / Move To Folder)
Duplicate Files Finder
Playlist Creator & Analyser (Supported Formats : m3u, pls, xpl)
Files Lister (Supported Formats : Raw listing, Coma Separated Values, SQL, XML)
Incomplete Tags Finder.
Quality Analyser.
Internationalization support.
… And much more !
Solo per oggi, AudioGrail 7.5 è offerto gratuitamente.

Per usufruire dell'offerta dovete scaricare ed installare il programma cliccando sul link al fondo dell'articolo, dovete scompattate il file .ZIP, quindi avviare il file .EXE appena scaricato e installate il programma seguendo la procedura guidata di AudioGrail 7.5 una volta completata l'installazione cliccate sul file di testo ReadMe.txt per sapere come ricevere la licenza gratuita in modo da attivare la versione completa di AudioGrail 7.5.
Potete scaricare AudioGrail 7.5 gratis cliccando sul seguente pulsante: