BoostSpeed 6.5 Gratis: Riparare, pulire e velocizzare il PC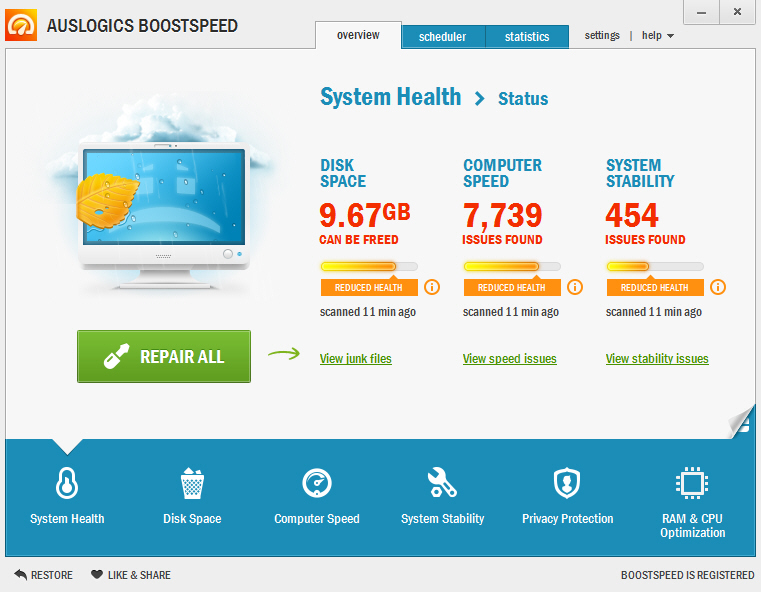 BoostSpeed ​​è il modo più semplice per riparare, pulire e velocizzare il PC. Valutato con 5 stelle da CNET, è una delle soluzioni all-in-one per la manutenzione del PC più efficaci. BoostSpeed ​​esegue una scansione del computer per individuare i problemi che possono essere responsabili del suo rallentamento e fornisce un modo sicuro per ripristinare le prestazioni originali del PC. Con un semplice click è possibile eliminare i file spazzatura dal disco, riparare il Registro di sistema, ottimizzare le impostazioni della connessione Internet e deframmentare l'hard disk.
Caratteristiche BoostSpeed:
Pinpoint the issues behind reduced performance
Defrag your HDD, clean out junk and repair registry
Speed up you PC and clean up your web browsers
Help protect your privacy and recover deleted files
Give you 15+ easy-to-use PC maintenance tools
Solo per oggi, BoostSpeed 6.5 è offerto gratuitamente.

Per usufruire dell'offerta dovete scaricare ed installare il Software dal Link al fondo dell'articolo, scompattate il file .ZIP scaricato, quindi avviare il file .EXE appena scaricato e installate BoostSpeed 6.5 una volta completata l'installazione cliccate sul file di testo ReadMe.txt per sapere come ricevere la licenza gratuita per attivare la versione completa di BoostSpeed 6.5.
Potete scaricare BoostSpeed 6.5 Gratis cliccando sul seguente pulsante: