Calcola le ore di lavoro, i giorni e molto altro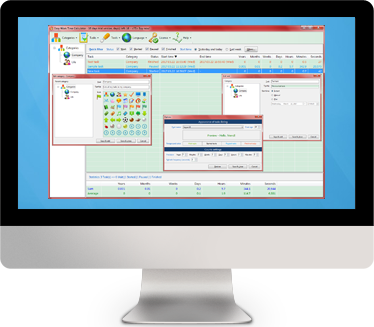 Calcola le ore di lavoro, i giorni e molto altro!
Calcola/conta il consumo di tempo delle tue attività per secondi, minuti, ore, giorni, mesi e anni.
Organizza le tue attività sotto forma di albero di categorie.
Offre le statistiche della somma e della media delle colonne numeriche per le attività elencate.
Ti offre un filtro comodo per le attività.
Ricorda automaticamente l'ordine e la larghezza delle colonne.
È in grado di nascondere le colonne che non vuoi visualizzare.
Ti offre molte opzioni utili.
Changelog ultima versione 7.0
Important (I): fully supports native Nederlands.
I: can set the precision of every time element as zero (only contains integer).
I: changed the default font of the lists to Segoe UI, 9pt, more readable and friendlier.
I: all interfaces are more perfectly displayed under different DPI settings for different systems.
I: now can show the update history directly if the new version is available and you chose to view the updates (in previous versions, just only jump to the 'Update History' segment, but have not expanded it, you need to expand it manually to see the update history).
Optimized the English texts of software (interfaces and message boxes), especially, standardized the initial capital.
Added "Get free license key via translation" menu item to the "Help" button.
Optimized official website.
Optimized software texts.
Optimized internal efficiency.
Solo per oggi, Easy Work Time Calculator 7.0 è offerto gratuitamente.

Per usufruire dell'offerta dovete scaricare ed installare il programma cliccando sul link al fondo dell'articolo, dovete scompattate il file .ZIP, quindi avviare il file .EXE (se presente nel file) appena scaricato ed installate il programma seguendo la procedura di installazione guidata di Easy Work Time Calculator 7.0 ed una volta completata l'installazione cliccate sul file di testo ReadMe.txt per sapere come ricevere la licenza gratuita in modo da attivare la versione completa di Easy Work Time Calculator 7.0.
Potete scaricare Easy Work Time Calculator 7.0 gratis cliccando sul seguente pulsante: