Cambiare Colore Standard alle Icone di Windows: Download FolderIco Gratis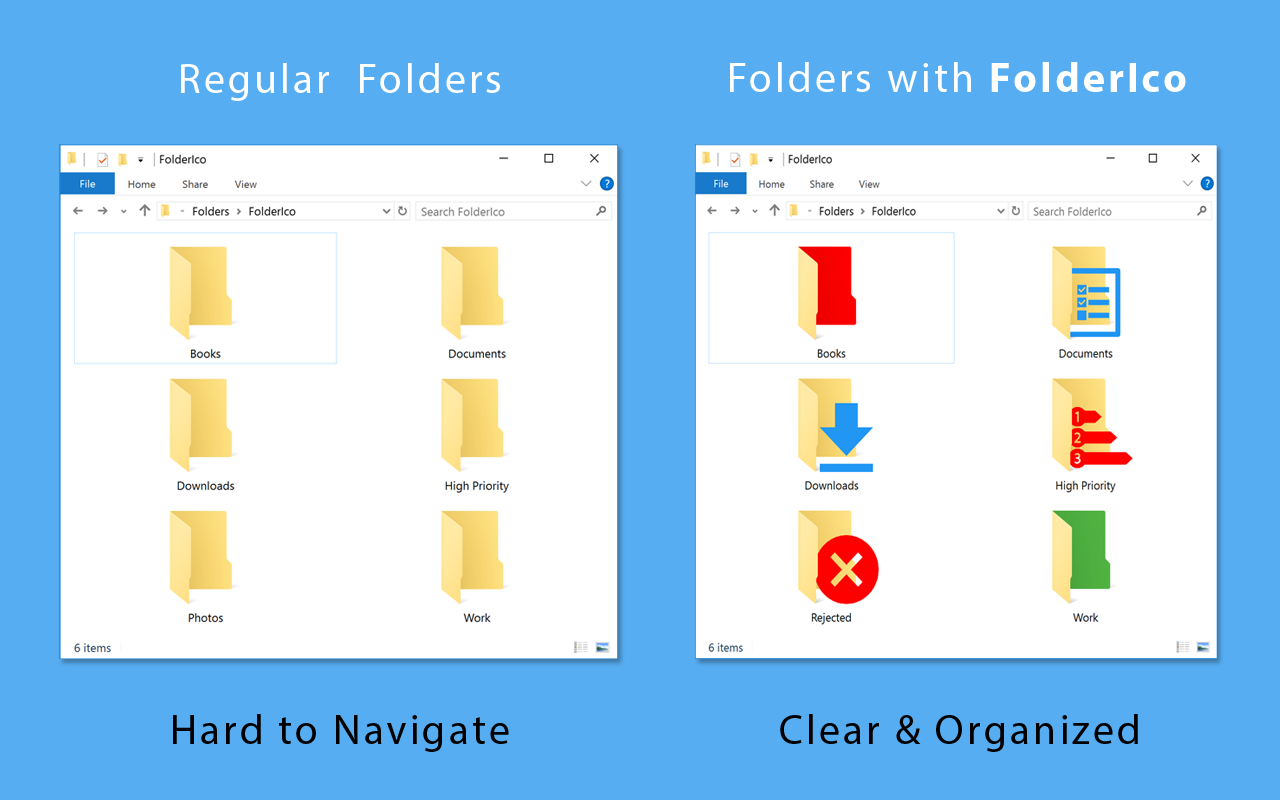 FolderIco permette di personalizzare l'icona di ogni cartella Windows con un semplice click! Non sai come modificare il colore giallo standard delle cartelle in un colore luminoso? Con FolderIco, dai un po' di colore alle cartelle Windows. Con un solo click, personalizza le tue cartelle e scopri un nuovo modo intuitivo per classificare i tuoi file. Uno sguardo veloce è adesso sufficiente per identificare la cartella che stai cercando!
FolderIco è un software molto leggero, che non resta in memoria. Utilizza una funzionalità nativa di Windows, per essere più efficiente. Scopri la semplicità: con un click del tasto destro del mouse su una cartella puoi modificare l'icona!
Features
Organise your Folders more Easily Don't you know how to change standard yellow folder to a colourful and bright one? With FolderIco, give some color to Windows folders. With just a one click, colorize your folders, and discover a new intuitive way to classify your files. A quick look is now enough to identify the folder you are looking for!
Classify your Folders by Priority You can now classify your folders by priority. Red is an important folder, orange is urgent, green is no action needed… Choose the attributes that you like, so you'll never delete an important folder in error.
A Fast and Light Tool FolderIco is a very light software, that doesn't stay in memory. It uses a native functionality of Windows to be more efficient. Discover its simplicity: with a single right-click on a folder you change it icon!
Integration with Windows Explorer FolderIco is integrated into your Windows Explorer! One right-click on any folder and FolderIco is ready to changing your folder's icon.
Solo per oggi, FolderIco 5.1 è offerto gratuitamente.

Per usufruire dell'offerta dovete scaricare ed installare il programma cliccando sul link al fondo dell'articolo, dovete scompattate il file .ZIP, quindi avviare il file .EXE (se presente nel file) appena scaricato ed installate il programma seguendo la procedura di installazione guidata di FolderIco 5.1 ed una volta completata l'installazione cliccate sul file di testo ReadMe.txt per sapere come ricevere la licenza gratuita in modo da attivare la versione completa di FolderIco 5.1.
Potete scaricare FolderIco 5.1 gratis cliccando sul seguente pulsante: