Cancellare file per sempre da Hard Disk, memorie e SSD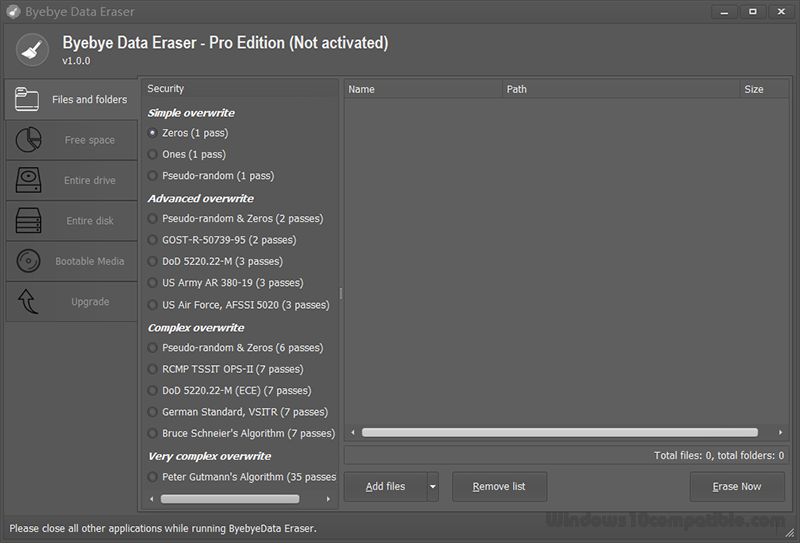 ByebyeData Eraser è una utility per pulire il disco, per cancellare in maniera sicura l'hard drive e i file condivisi, con standard di pulizia incorporati come DoD 5220.22m e altri algoritmi approvati. Con questo programma DoD di pulizia, finalmente saprai come cancellare completamente un hard drive (HDD or SSD) ed effettuare una pulizia dei dati. Pulire l'hard drive con questo Eraser dei dati terrà al sicuro i dati privati.
Features
Graphical interface, easy to use.
Supports fourteen erasing standards.

Pro

-Create bootable media function available.
Supports FAT/exFAT/NTFS, Apple's HFS+,
Linux Ext2/Ext3/Ext4 and Unix UFS file systems.
Supports various Input/Output interfaces:
IDE, USB, SATA, eSATA, SSD, SCSI disks, LUN, RAID Disk Array.
Solo per oggi, ByebyeData Eraser Pro Home 1.20 è offerto gratuitamente.

Per usufruire dell'offerta dovete scaricare ed installare il programma cliccando sul link al fondo dell'articolo, dovete scompattate il file .ZIP, quindi avviare il file .EXE (se presente nel file) appena scaricato ed installate il programma seguendo la procedura di installazione guidata di ByebyeData Eraser Pro Home 1.20 ed una volta completata l'installazione cliccate sul file di testo ReadMe.txt per sapere come ricevere la licenza gratuita in modo da attivare la versione completa di ByebyeData Eraser Pro Home 1.20.
Potete scaricare ByebyeData Eraser Pro Home 1.20 gratis cliccando sul seguente pulsante: