Come fare un Backup completo del Sistema contro la Perdita dei Dati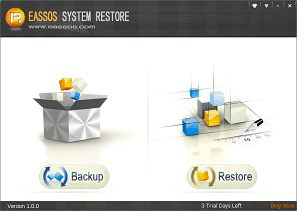 Programma potente e facile da utilizzare per il backup del sistema, recupero da un problema o perdita di dati dal sistema operativo:
Fai il backup di Windows per proteggere il PC contro danni e ripristinare il SO quando le cose non vanno bene
Diverse Soluzioni di Recupero: Backup Incrementale; Diversi Punti di Ripristino; Diversi Metodi di Recupero
Compatibile con GPT/UEFI
Back up Windows to protect PC against damage and get OS back when things go wrong.

User-friendly and customizable wizard interface makes it easy to understand for beginners.

Provide free 15-day trial version that doesn't have any limitations so that you can evaluate software for real-world use.
Solo per oggi, Eassos System Restore 2.0.3 è offerto gratuitamente.

Per usufruire dell'offerta dovete scaricare ed installare il programma cliccando sul link al fondo dell'articolo, dovete scompattate il file .ZIP, quindi avviare il file .EXE (se presente nel file) appena scaricato ed installate il programma seguendo la procedura di installazione guidata di Eassos System Restore 2.0.3 ed una volta completata l'installazione cliccate sul file di testo ReadMe.txt per sapere come ricevere la licenza gratuita in modo da attivare la versione completa di Eassos System Restore 2.0.3.
Potete scaricare Eassos System Restore 2.0.3 gratis cliccando sul seguente pulsante: