Come inserire Watermark e Filigrane alle tue Foto ed Immagini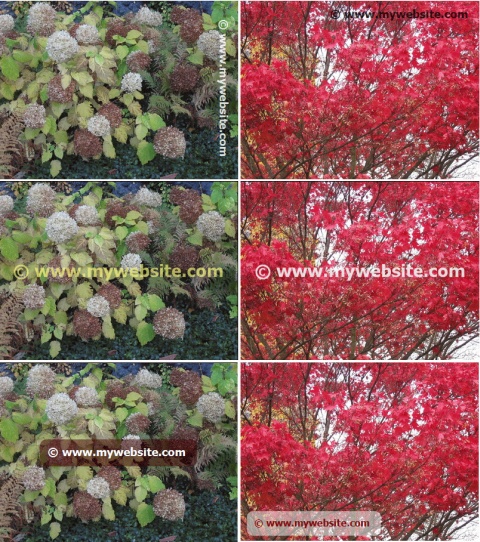 Watermarking PRO ti farà risparmiare tempo e creare bellissimi watermark per te. Diversi watermark sono disponibili. Puoi utilizzare macro nel programma. Puoi anche aggiungere watermark alle immagini GIF in maniera facile e vedere in anteprima qualsiasi modifica effettuata.
L'immagine risultante ha una buona qualità e consistenza. Puoi goderti il risultato. Diversi stili e posizioni dei watermark sono pronti per essere utilizzati. Nessun altro programma è necessario.
Features
Save time by running directly from Windows Explorer
(PRO VERSION ONLY): apply multiple watermarks at once (for example, date/time stamp at the bottom and copyright information at the top)
(PRO ONLY): use EXIF, IPTC macros in watermarks;
You can preview every change before actually applying the watermark;
Special symbols like to indicate copyrights using text watermarks;
Save time by processing folders and sub-folders with images;
Support for TIFF format images (to watermark b/w scanned documents in TIFF format);
(PRO VERSION ONLY) Add watermark to animated GIF images;
Solo per oggi, Watermarking Pro 3.2.0 è offerto gratuitamente.

Per usufruire dell'offerta dovete scaricare ed installare il programma cliccando sul link al fondo dell'articolo, dovete scompattate il file .ZIP, quindi avviare il file .EXE (se presente nel file) appena scaricato ed installate il programma seguendo la procedura di installazione guidata di Watermarking Pro 3.2.0 ed una volta completata l'installazione cliccate sul file di testo ReadMe.txt per sapere come ricevere la licenza gratuita in modo da attivare la versione completa di Watermarking Pro 3.2.0.
Potete scaricare Watermarking Pro 3.2.0 gratis cliccando sul seguente pulsante: