Come ottenere gli accordi di canzoni famose velocemente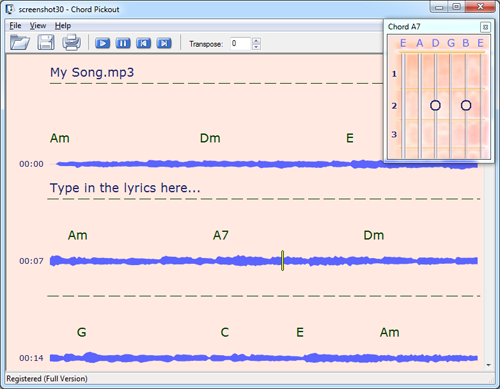 Basta caricare un file audio e ottieni gli accordi. È così facile! Con Chord Pickout, chitarristi e suonatori di pianoforte possono ottenere gli accordi di canzoni famose immediatamente. Scarica una canzone e salvalo in un file WAY, MP3 o altro formato supportati, caricalo su Chord Pickout, e rilassati. Chord Pickout utilizza tutte la Potenza dell'intelligenza artificiale per scegliere gli accordi al posto tuo, trascrivendo la musica e producendo una partitura stampabile ed editabile. Tutto in maniera completamente automatica. Le sue potenti capacità di editing permettono di modificare e di stampare partiture e testi.
Features
Supports MP3, WMA, OGG, AAC, M4A, WAV & CD Audio formats
Automatically picks out chords and produces a printable score
Easy to use for musicians and ordinary folks
Comes with built-in chord and lyrics editor
Prints scores and lyrics
Supports guitar fingering
Competitively priced and instantly delivered
Solo per oggi, Chord Pickout 3.0 è offerto gratuitamente.

Per usufruire dell'offerta dovete scaricare ed installare il programma cliccando sul link al fondo dell'articolo, dovete scompattate il file .ZIP, quindi avviare il file .EXE appena scaricato e installate il programma seguendo la procedura guidata di Chord Pickout 3.0 una volta completata l'installazione cliccate sul file di testo ReadMe.txt per sapere come ricevere la licenza gratuita in modo da attivare la versione completa di Chord Pickout 3.0.
Potete scaricare Chord Pickout 3.0 gratis cliccando sul seguente pulsante: