Conserva, crea e gestisci la tua cartella medica sul Computer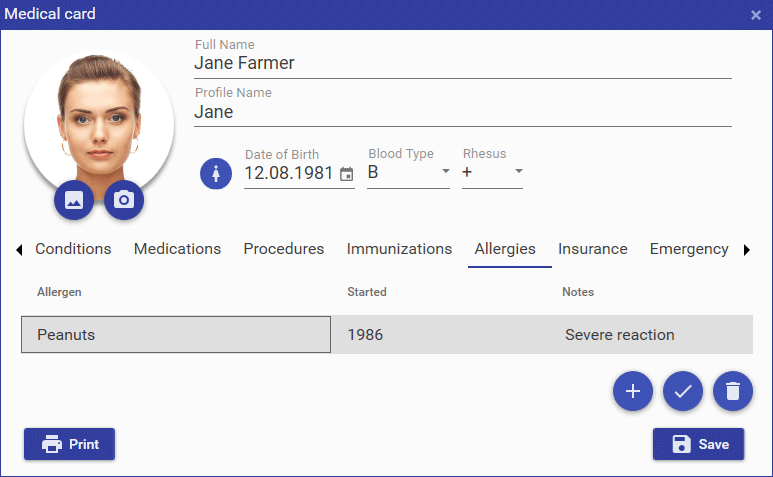 GooPatient ti permette di creare e mantenere registri medici elettronici per te e la tua famiglia sul tuo computer. In GooPatient, puoi creare archivi medici nel modo più naturale possibile. Utilizzando hashtag come in Twitter, puoi organizzare archivi in maniera facile e collegarli alle condizioni mediche, dottori, trattamenti, ecc. Aggiungi rapidamente appunti relativi alla salute al tuo giornale della salute: sintomi, terapie, analisi di laboratorio.
Features
Own your Medical Card It's Secure on your PC
Your Health Journal is simple like Facebook
All your Health data in your Android
Use Pain Marker to describe your pain
Organise Medical Files and Doctor Contacts
Take your Family Health Under Control
Child Health Diary and vaccination records
Keep your Pet Health Records organized
Print Emergency Card with health and contact data
Solo per oggi, GooPatient 3.1.0 è offerto gratuitamente.

Per usufruire dell'offerta dovete scaricare ed installare il programma cliccando sul link al fondo dell'articolo, dovete scompattate il file .ZIP, quindi avviare il file .EXE (se presente nel file) appena scaricato ed installate il programma seguendo la procedura di installazione guidata di GooPatient 3.1.0 ed una volta completata l'installazione cliccate sul file di testo ReadMe.txt per sapere come ricevere la licenza gratuita in modo da attivare la versione completa di GooPatient 3.1.0.
Potete scaricare GooPatient 3.1.0 gratis cliccando sul seguente pulsante: