Convertire DVD su Windows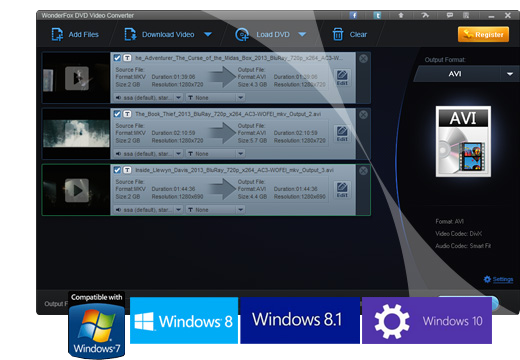 WonderFox DVD Video Converter è progettato per la tua vita digitale e condivisione in famiglia. Offre una soluzione multimediale completa nella maniera più semplice. Se stai cercando di recuperare un po' di spazio sulla tua libreria, prendi in considerazione una soluzione di backup della tua libreria multimediale così puoi mettere via i tuoi supporti in una scatola con questo programma. Puoi trasferire tutti i file multimediali sull'home server/smart router e poi guardarli sul tuo PC, iPhone, iPad, Tablet senza problemi di formato e compatibilità.
Features
Convert DVD to (HD) Video: Enable to convert DVD video to all hot video files or HD/4k/8k video files including HD AVI, HD MP4, HD MOV, FLV, HD WMV, AVI, MP4, VOB, MKV, WMV, MPEG, H264, HEVC(H265), VP9, WEBM, etc.
Convert All Popular (HD) Video files to 200+ video formats.
Convert DVD and (HD) video into portable devices including iPhone 6 Plus,iPhone 6, iPad Air, iPad mini, iPhone 5S/C, iPhone 4s/4, Apple TV, Samsung Note 4, Galaxy S6 Edge, Moto X, Google Nexus 6, HTC One M9, BlackBerry PassPort, Nokia Lumia 930, Sony PS4, TV, TV Box, etc.
Solo per oggi, WonderFox DVD Video Converter 8.6 è offerto gratuitamente.

Per usufruire dell'offerta dovete scaricare ed installare il programma cliccando sul link al fondo dell'articolo, dovete scompattate il file .ZIP, quindi avviare il file .EXE appena scaricato e installate il programma seguendo la procedura guidata di WonderFox DVD Video Converter 8.6 una volta completata l'installazione cliccate sul file di testo ReadMe.txt per sapere come ricevere la licenza gratuita in modo da attivare la versione completa di WonderFox DVD Video Converter 8.6.
Potete scaricare WonderFox DVD Video Converter 8.6 gratis cliccando sul seguente pulsante: