novaPDF Lite 10 è il programma gratis di oggi che vi permetterà di creare file PDF partendo da qualsiasi file stampabile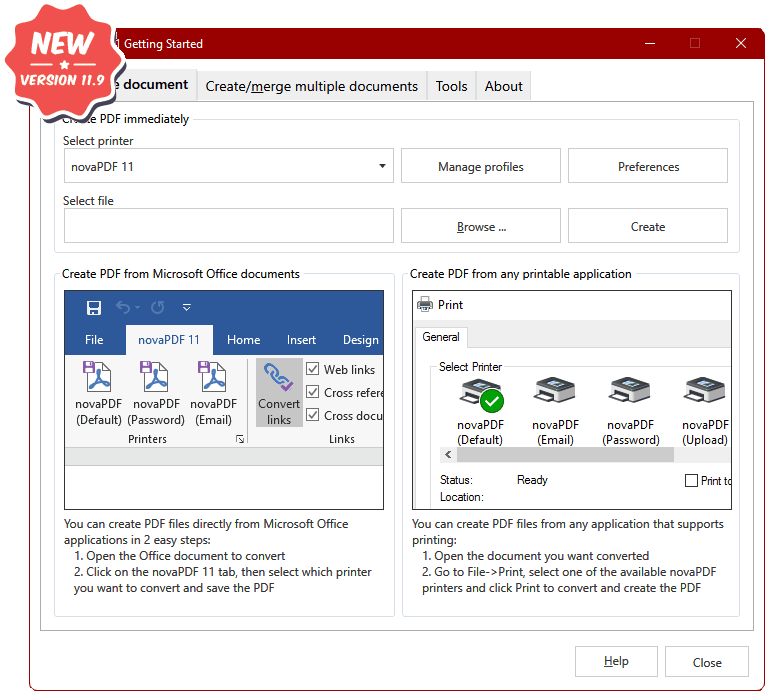 Convertire PDF da qualsiasi file Stampabile
novaPDF Lite ti permette di creare file PDF da qualsiasi documento stampabile, comprese mail, documenti Microsoft Office, pagine web, testo.
Funziona come un driver di stampante e puoi stampare da qualsiasi applicazione Windows che supporta la funzione di stampa – è sufficiente impostare novaPDF Lite come stampante di default e il documento verrà convertito e salvato come file PDF. Le funzioni comprendono: risoluzione personalizzabile, informazioni documento, dimensione pagina predefinita, impostazioni di qualità e molto altro.
Using novaPDF, both individual users and businesses are able to create PDF documents and easily share them, making the process of collaboration more efficient. With just a few clicks you can have your company's reports, contracts, workflows, agreements, marketing plans, spreadsheets, forms, products list, price list, charts, emails or other printable documents converted in PDF format.
Its purpose is to enable users to exchange electronic documents easier, independently of the application in which they were initially created. The resulted PDF files can be viewed on any computer with a PDF viewer (reader) installed.
This PDF printer driver is compatible with these operating systems: Windows 10, 8, 7, Vista, Server 2016/2012/2008 (32/64-bits). It also requires the .NET framework (you'll be prompted during installation if it's not already installed).
Solo per oggi, novaPDF Lite 10 è offerto gratuitamente.

Per usufruire dell'offerta dovete scaricare ed installare il programma cliccando sul link al fondo dell'articolo, dovete scompattate il file .ZIP, quindi avviare il file .EXE (se presente nel file) appena scaricato ed installate il programma seguendo la procedura di installazione guidata di novaPDF Lite 10 ed una volta completata l'installazione cliccate sul file di testo ReadMe.txt per sapere come ricevere la licenza gratuita in modo da attivare la versione completa di novaPDF Lite 10.
Potete scaricare novaPDF Lite 10 gratis cliccando sul seguente pulsante: