Crea, gioca e condividi giochi divertenti sul tuo PC senza saper programmare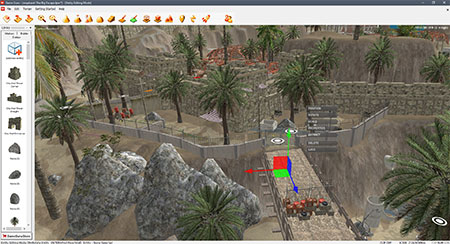 Benvenuti su GameGuru, il game creator più facile e più divertente! Crea un gioco che tu e i tuoi amici potete giocare insieme. Creare il tuo gioco potrebbe essere una questione di minuti e non è richiesta alcuna competenza tecnica!
Ovviamente, potresti trascorrere ore, giorni allegramente…persino settimane creando le tue opere d'arte, comunque la cosa bella di GameGuru è che non dovrai perdere tempo a imparare strani linguaggi di programmazione alieni oppure utilizzare complessi tool di modellazione. Il tempo che trascorri con GameGuru è tutto sulla creazione e sul divertimento mentre lo fai.
We've created a small game level for you to play and enjoy, which shows you how you might want to lay out your level and balance the combat to give the player a challenging experience. You can, of course, edit this level any way you wish and learn from an existing demo level rather than start completely from scratch.

GameGuru offers you an easy yet comprehensive game-creation process that is open to non-programmers and designers/artists, or anyone who aspires to become a game creator. It also has powerful editing tools for those who want to take their game creation to an even greater and more complex level. The power is there at your fingertips. And, as a welcome to GameGuru bonus we have also included an expansion pack with over 2.8 GB of additional game assets for you to get started! Enjoy!
Solo per oggi, GameGuru è offerto gratuitamente.

Per usufruire dell'offerta dovete scaricare ed installare il programma cliccando sul link al fondo dell'articolo, dovete scompattate il file .ZIP, quindi avviare il file .EXE (se presente nel file) appena scaricato ed installate il programma seguendo la procedura di installazione guidata di GameGuru ed una volta completata l'installazione cliccate sul file di testo ReadMe.txt per sapere come ricevere la licenza gratuita in modo da attivare la versione completa di GameGuru.
Potete scaricare GameGuru gratis cliccando sul seguente pulsante: