Creare spettacolari Collage gratis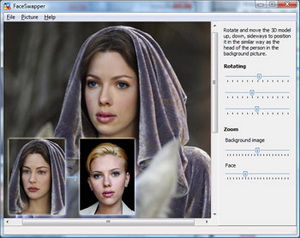 FaceSwapper facilita le operazione di taglio e incolla dei volti da una foto in un'altra senza selezioni di precisione oppure regolazioni di colore manuale. Il taglio e l'incollaggio avviene in uno spazio 3D, permettendoti di far coincidere facilmente l'angolo e la direzione del volto di destinazione. Non c'è bisogno di utilizzare applicazioni di modelli 3D oppure pacchetti grafici costosi. Crea collage in alta qualità in pochi minuti!
Features
Automatic Face Selection No lengthy manual selections and no complicated color adjustments are required – just click the two faces with a mouse, and FaceSwapper will create a smooth, natural-looking collage right away!
Jagged-free Edges The automatic face detection and selection tool ensures jagged-free selection of the original face, which makes the source and target faces blend seamlessly to produce smooth, natural images.
Automatic Color Adjustment No two pictures are exactly alike. Variations in background and lighting conditions produce images that differ significantly in their gamma and colors. FaceSwapper recognizes the difference and adjusts the face being transplanted to match the exact color and gamma of the destination image to produce photo collages that are as natural as the original.
3D Operation FaceSwapper operates in all three dimensions, allowing you to adjust the exact angle and rotation of the original face. Full 3D operation produces smooth, natural-looking faces that look blended into the environment as opposed to being cut and pasted.
Have Fun! Create a dollar or a $100 bill with your own face. Make a classic Greek sculpture with your spouse's face. Enhance famous paintings with your face or your friends' faces. Swap faces on a group photo. Participate and win in photoshopping contests. Do all that and much more with the new FaceSwapper!
Solo per oggi, FaceSwapper 1.2 è offerto gratuitamente.

Per usufruire dell'offerta dovete scaricare ed installare il programma cliccando sul link al fondo dell'articolo, dovete scompattate il file .ZIP, quindi avviare il file .EXE (se presente nel file) appena scaricato ed installate il programma seguendo la procedura di installazione guidata di FaceSwapper 1.2 ed una volta completata l'installazione cliccate sul file di testo ReadMe.txt per sapere come ricevere la licenza gratuita in modo da attivare la versione completa di FaceSwapper 1.2.
Potete scaricare FaceSwapper 1.2 gratis cliccando sul seguente pulsante: