Digita i tasti e riproduci la Musica sul tuo Computer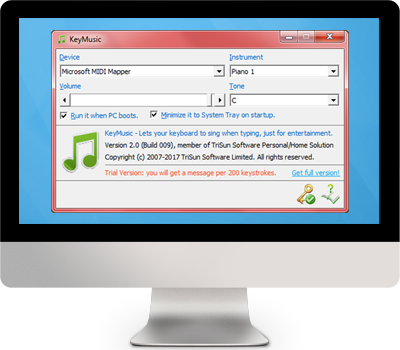 Lascia che la tastiera riproduca la musica mentre digiti!
Effetto Musica Regolabile;
Molto facile da utilizzare;
Salva le Modifiche Automaticamente.
Features
Important (I): supports Windows 8/8.1/10.
I: added option – "Run it when PC boots."
I: added option – "Minimize it to System Tray on startup."
I: supports to check the new version (includes manually and automatically).
I: minimized program to System Tray when click the window's <Minimize> button, no longer need to click an extra link to do this.
Added the Help button, it includes these functions: "Product Homepage, Company Homepage, Request eMail Support (Free), Request Remote Support (Fee-based), Recommend to Friends, Find Us on Facebook/Twitter/Google+".
No longer uses the bold texts on the main interface, replaced them as colorful texts, more readable and friendlier.
Changed the splitter color from black to gray to make it friendlier.
Changed the format of screenshot on the website from GIF to PNG, in order to let you see the original and most clear appearance of the product.
Optimized internal efficiency.
Solo per oggi, KeyMusic 2.0 è offerto gratuitamente.

Per usufruire dell'offerta dovete scaricare ed installare il programma cliccando sul link al fondo dell'articolo, dovete scompattate il file .ZIP, quindi avviare il file .EXE (se presente nel file) appena scaricato ed installate il programma seguendo la procedura di installazione guidata di KeyMusic 2.0 ed una volta completata l'installazione cliccate sul file di testo ReadMe.txt per sapere come ricevere la licenza gratuita in modo da attivare la versione completa di KeyMusic 2.0.
Potete scaricare KeyMusic 2.0 gratis cliccando sul seguente pulsante: