Softdiv PDF Split and Merge Pro è il programma gratuito di oggi per unire e dividere file PDF in pochi click facilmente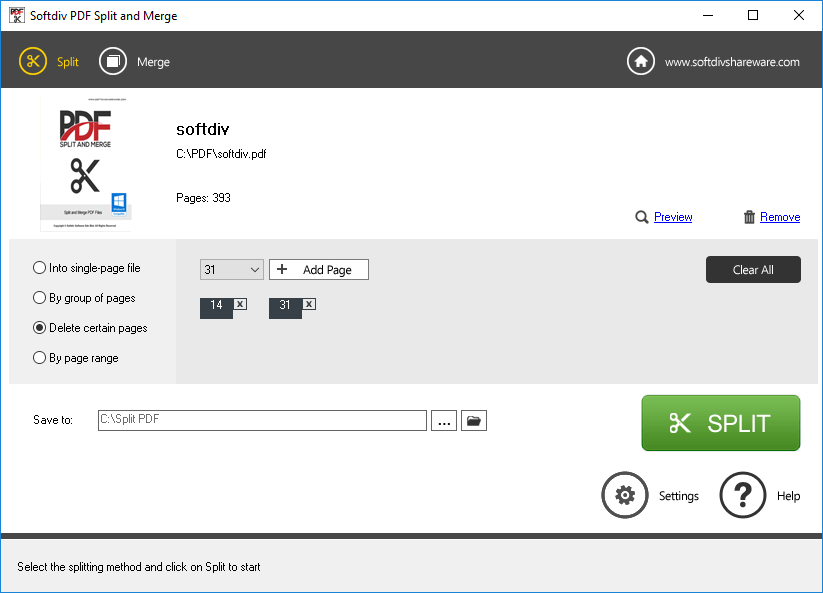 Dividere ed Unire file PDF in pochi click
Softdiv PDF Split and Merge è un programma PDF che ti permette di dividere e combinare file PDF in pochi passaggi. Il programma ti permette di combinare un numero illimitato di documento PDF in un singolo file PDF in modalità batch.
Si può specificare se combinare tutte le pagine oppure solo una serie di pagine. Softdiv PDF Split and Merge ti permette anche di dividere un grande file PDF in parti più piccole. Supporta diversi tipi di metodi di divisione (Dividi in un file PDF con pagina singola, Cancella le pagine indesiderate, Cancella serie di pagine indesiderate e Dividi per gruppo di pagine) per eseguire diversi obiettivi di divisione.
Comprende un PDF Reader incorporato, che ti permette di vedere in anteprima I file PDF prima di dividere o combinare. Inoltre, questo programma è anche in grado di elaborare documenti PDF protetti con password. CI sono anche opzioni per impostare le password, il titolo, l'autore, il creatore e il valore soggetto per i file PDF divisi o combinati.
Dividi File PDF
Diverse Modalità di Divisione
Combina File PDF
File PDF Codificati
PDF Viewer
Solo per oggi, Softdiv PDF Split and Merge Pro 1.0 è offerto gratuitamente.

Per usufruire dell'offerta dovete scaricare ed installare il programma cliccando sul link al fondo dell'articolo, dovete scompattate il file .ZIP, quindi avviare il file .EXE (se presente nel file) appena scaricato ed installate il programma seguendo la procedura di installazione guidata di Softdiv PDF Split and Merge Pro 1.0 ed una volta completata l'installazione cliccate sul file di testo ReadMe.txt per sapere come ricevere la licenza gratuita in modo da attivare la versione completa di Softdiv PDF Split and Merge Pro 1.0.
Potete scaricare Softdiv PDF Split and Merge Pro 1.0 gratis cliccando sul seguente pulsante: