Download MOBILedit! Forensic 6.9.0.2876 Portable, tool di diagnostica completo per il tuo smartphone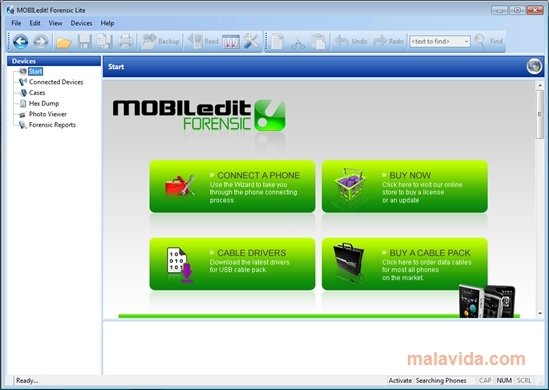 Con MOBILedit! Forensic puoi estrarre tutte le informazioni registrate sul tuo cellulare. Scarica MOBILedit! Forensic e salva i tuoi contatti e i messaggi
Estrae tutte le info da qualsiasi cellulare.
MOBILedit! Forensic è un programma che ci offre la possibilità di investigare a fondo tra i contenuti di un telefono cellulare, dalla versione del software fino agli appunti o ai messaggi SMS salvati. Tutte le operazioni vengono realizzate da un'interfaccia simile a quella di un qualsiasi gestore di telefonini, cui potremo accedere attraverso una serie di comodi menú.
Il programma può connettersi a qualsiasi dispositivo attraverso infrarossi, Bluetooth o cavo.
Caratteristiche
Capacità di estrarre tutte le informazioni su contatti, SMS, immagini, note del calendario, file.
Opzione per generare report in formato RTF, XML, XLS, Word o TXT.
Modalità di analisi automatica.
Interfaccia amichevole.
Funzione per recuperare documenti cancellati.
Se stavi cercando un'applicazione con cui poter scrutare a fondo in qualsiasi telefono cellulare, scarica il prima possibile MOBILedit! Forensic.
Requisiti e informazioni utili:
Questa versione Lite presenta funzionalità limitate e smetterà di funzionare al termine del periodo di prova.
Per leggere la lista dei terminali compatibili, dirigiri a questa pagina qui.
MAGGIORI DETTAGLI
MOBILedit! is software that brings the ability to control the phone from your PC. After connecting the phone via cable, IrDA or Bluetooth, view the contents of the phone on the PC, do full-text searches, dial numbers, send SMS or MMS messages. With a simple click, backup all your data, copy them to different mobile phones and manipulate your contacts without even touching the phone. When you receive a message, it arrives on your PC in a similar way as an email; simply reply to it or move it to the archive. You will become much more productive as a result. MOBILedit! has two breakthrough features never before seen in the mobile world. The mBoox and Shopping List functions will add fun to your daily routine and make your life more efficient than ever before. With the mBoox technology, you can read documents in your phone, including pictures, in one scrollable formatted file.
Copy online articles, driving directions, lecture notes, ebooks, study material, guides, jokes, contracts, or any text documents to your phone and read them on the go.
The Shopping List allows you to write lists of any kind into MOBILedit! and send them to your phone to be stored. Not just for shopping-create to-do lists, homework lists, personal goal lists, workout routines, and many more. Forget about the crumpled paper list in your pocket or the chance of leaving it at home. Click to items you have completed and they will cross out. No need to have a pen with you.
Features:
* Analyze phones via Bluetooth, IrDA or cable connection
* Analyze phonebook, last dialed numbers, missed calls, received calls, SMS messages, multimedia messages, photos, files, phone details, calendar, notes, tasks and more
* Large quantity of phones supported
* Frequent updates and upgrades with new features and more phones
* Direct SIM analyzer through SIM readers
* Reads deleted messages from the SIM card
* Reports Generator based on your templates
* Print reports ready for courtroom
* Reports generated in any language
* Make backup now and reports when needed
* Manual investigation mode
* Secure and tamper-proof using MD5 hash
* Compliant with Word or any other RTF editor
* View formatted reports in browser including original pictures
* Exports to Word, Excel/XLS, browser, XML/XSL
* Complete solution including specific phone cables and SIM readers
* XML export – seamlessly connect MOBILedit! Forensic data with other systems
* Preferred/forbidden networks
* Hex dump viewer
* Free access to forensic forum.