Easy Work Time Calculator: Come sapere quante ore lavori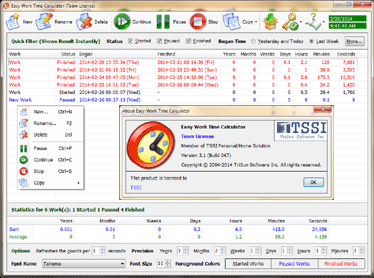 Easy Work Time Calculator è una calcolatore da lavoro molto facile da usare. È in grado di calcolare/conteggiare il tempo del tuo lavoro sulla base dei secondi, minuti, ore, giorni, settimane, mesi, anni, nonchè la somma e la media. I numeri degli elementi data tempo sono aggiornati automaticamente e puoi impostare la frequenza dell'aggiornamento. Con questo programma, puoi Avviare, Rinominare, Cancellare, Mettere in Pausa, e Arrestare i tuoi lavori.
Features
Calculates/counts the time consumption of your work by seconds, minutes, hours, days, weeks, months and years.
Provides the sum and average statistics of the numeric columns for the listed works.
Provides you with a convenient works filter.
Automatically remember the order and width of the columns.
Automatically remember the size and location of the main window.
Can hide some columns that you do not want to see.
Provides you with many useful options.
Solo per oggi, Easy Work Time Calculator 4.0 è offerto gratuitamente.

Per usufruire dell'offerta dovete scaricare ed installare il programma cliccando sul link al fondo dell'articolo, dovete scompattate il file .ZIP, quindi avviare il file .EXE appena scaricato e installate il programma seguendo la procedura guidata di Easy Work Time Calculator 4.0 una volta completata l'installazione cliccate sul file di testo ReadMe.txt per sapere come ricevere la licenza gratuita in modo da attivare la versione completa di Easy Work Time Calculator 4.0.
Potete scaricare Easy Work Time Calculator 4.0 gratis cliccando sul seguente pulsante: